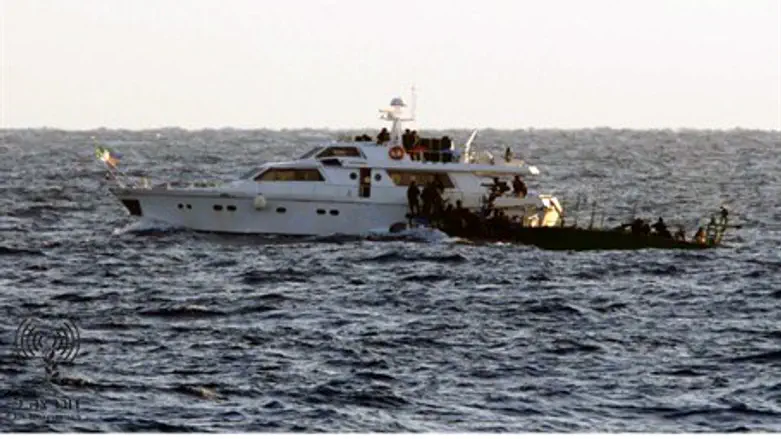 Israeli navy takes over flotilla ships
Israel news photo: IDF Spokesperson
Israeli naval officers took over on Friday afternoon the two ships that had attempted to reach Gaza and break the naval blockade imposed on the Hamas-controlled area.
The takeover was met with no resistance from the 27 Irish, Canadian, and American activists on board. The ships were searched by IDF officers, who did not find weapons on board, and were then taken to the Ashdod Port.
Earlier on Friday, IDF naval forces made initial contact via radio with the two ships and asked them to alter course, but the ships refused to do so.
The captains of the vessels were informed their course would lead them into waters legally closed by Israel and were informed they could turn around or head for a port in Egypt. They continued to refuse to change course, which prompted IDF Chief of Staff Benny Gantz to order the navy's Shayetet 13 to take over the ships.
The Tahrir and Saoirse yachts set sail from Turkey on Wednesday, saying they were carrying medical supplies for Gaza.
The IDF said it will not allow the boats to breach its blockade of the Hamas-terror organization in Gaza and is fully prepared for their arrival. Earlier this year a French vessel headed for Gaza was diverted to the port of Ashdod by IDF forces without incident.
Israeli officials also offered to unload any supplies aboard the boats and deliver them to Gaza. Israel allows hundreds of truckloads of aid supplies to enter Gaza via the Kerem Shalom, which is never at full capacity despite aid needs being met, every day.
Earlier on Friday, the flotilla's organizers announced the activists aboard the vessels had pledged not to resist IDF naval commandos should they board the vessels.
Israeli navy takes over flotilla ships.
Photo: IDF Spokesperson
(Arutz Sheva's North American Desk is keeping you updated until the start of Shabbat in New York. The time posted automatically on all Arutz Sheva articles, however, is Israeli time.)