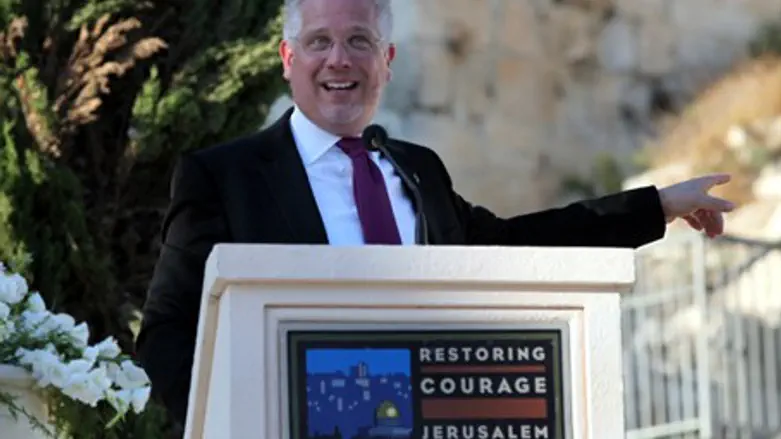 Glenn Beck in Jerusalem
Israel news photo: Flash 90
A wildly cheering Texas church crowd  heard Glenn Beck Sunday at "A Night to Honor Israel" say, "G-d is preparing a surprise party for Satan." More than 7,000 people attended the Cornerstone Church rally, according to the San Antonio Express News.
Beck, who staged a "Resorting Courage" rally in Israel in August, told supporters who waved the American and Israeli flags, "What's happened throughout history is that evil thinks it can win, and essentially it can win by making G-d break his promise."
"And how can it do that? By killing all the Jews! Then there'll be nobody left for him to keep His promise! That's happened over and over and over again! But not on my watch! And not on your watch!"
Pastor John Hagee initiated the event 30 years ago to show a unity of support for Israel by Christians as well as Jews.
Beck is both praised and suspected by ardent Zionists, some of whom fear he has missionary aims. He said Sunday night that the time for a "Third Great Awakening" had arrived and that G-d is preparing a "surprise party for Satan." 
"All we have to do is the next right thing, and the right thing is to stand with the good people of Israel, our good Jewish friends who are just like us — we're all brothers and sisters under G-d," Beck intoned.
He accused Occupy Wall Street protesters of anti-Semitism and also threw in a few choice words against Islam.
"The truth is communists and socialists and revolutionaries and Islamists all over the world are working together to collapse Israel, to collapse the United States, to collapse the Western way of life," Beck told his captive audience.
Hagee preceded Beck and asserted that the meaning of Hitler's "Mein Kampf – my struggle" — has "the same literal meaning of "jihad."
He warned Christians that "radical Islam" is a danger to them, pointing out that Christians "are being killed in Egypt right now. The Arab Spring could end up being a Christian nightmare."