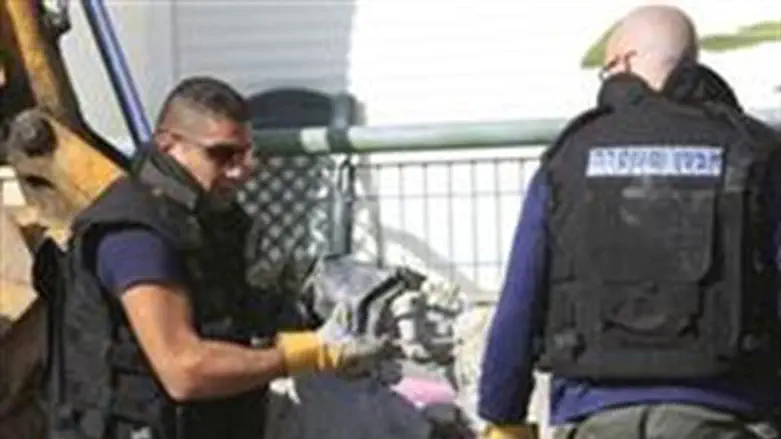 Grad Rocket
Israel News Photo: Flash90
The rocket attacks from Gaza continued overnight Saturday, giving local residents a restless night.
Two rockets were fired towards Be'er Sheva just after 3:00 a.m. (Israel time). The rockets exploded in open areas and there were no reports of physical injuries or damage.
At about 5:00 a.m. Israel time, a Grad missile exploded north of the city of Ashkelon. There were no physical injuries or damage.
Meanwhile, IAF aircraft targeted six terror activity sites in Gaza overnight. Three rocket launching sites and one terror tunnel were targeted in northern Gaza, and two terror activity sites were targeted in southern Gaza.
According to the IDF Spokesperson, secondary explosions were observed in certain sites. Hits were confirmed.
The attacks came in response to the barrage of rockets that were fired at Israel throughout the day on Saturday.
Ten Grad missiles and over 20 Kassam rockets and mortars hit Israel over the course of the day, the IDF said.
In one of the attacks, 56-year-old Ami Moshe of Ashkelon was killed. Moshe was rushed to the Barzilai Hospital and was immediately taken to the operating room, where doctors discovered that a major artery in his stomach was hit by shrapnel. Moshe's condition rapidly deteriorated and he died on the operating table.
A total of 16 people were moderately to lightly wounded by rockets throughout the day on Saturday, most of them being hit by shrapnel and suffering from smoke inhalation, according to Magen David Adom. 14 people were listed as suffering from anxiety.
Meanwhile, there were reports overnight of a ceasefire, brokered by Egypt, that had been agreed upon between Israel and the Gaza-based terror groups.
The Reuters news agency reported that the ceasefire will go into effect on Sunday morning at 6:00 a.m. (Israel time). Another report in the Ma'an news agency claimed the ceasefire had started at 3:00 a.m., a fact that seems to be disputed by the attacks that occurred after that time. In any case, the terror groups are notorious for announcing a ceasefire and then quickly breaking it.