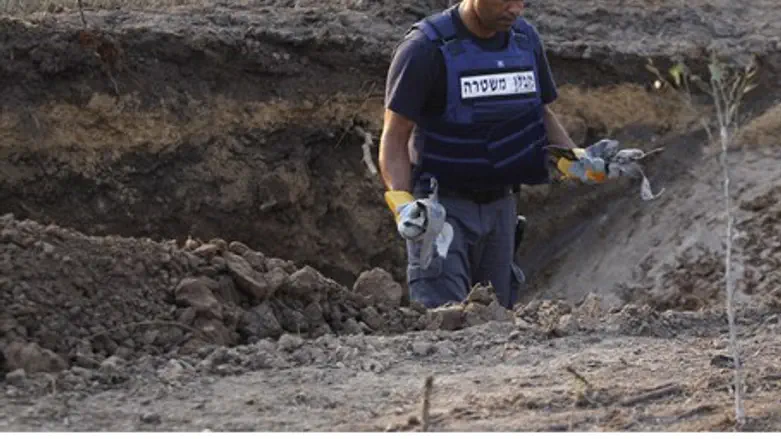 Grad missile
Israel news photo: Flash 90
Terrorists from Gaza fired a Grad missile towards southern Israel late Wednesday evening.
The IDF Spokesperson said that the missile exploded in Ashdod. There were no physical injuries, but several people suffered from anxiety.
Arutz Sheva's readers reported of a Color Red siren having sounded at 11:16 p.m. (Israel time) in Ashdod, Rehovot, Yavneh, Gedera, Kiryat Malachi and other communities in the region. The explosion was heard shortly afterwards in Ashdod.
This was the first attack since the Shalit deal, in which Israel released 477 terrorists in exchange for Gilad Shalit, was implemented last week.
Two weeks ago, a Kassam rocket exploded in an open area in the Ashkelon Coast Regional Council. The rocket caused damage to buildings, but there were no injuries.
Earlier on Wednesday evening, a military vehicle was that was on patrol south of Bethlehem hit a roadside bomb near Khirbet Eliya.
The bomb exploded, causing damage to the vehicle. There were no physical injuries.
The attacks were the latest in a series of terror attacks over the past several days, most of them in the Judea and Samaria area.
On Tuesday, a vehicle that was driving northward on Route 60 near Maavar Mikhmas was blocked by an Arab-owned commercial vehicle. At the same time, a young Arab armed with a club emerged from the nearby village, jumped over the security barrier and headed toward the vehicle. The driver managed to bypass the vehicle that was blocking the road, crossed the intersection and drove off.
On Monday, Arabs threw a rock from a passing vehicle at an Egged bus travelling from Beit El to Jerusalem. No one was hurt but the bus was damaged.
On Sunday, a Border Police force arrested an Arab terrorist at a roadblock near the Cave of Machpela in Hevron. He was carrying a knife and a homemade explosive cap. He admitted that he was planning to stab Jews.