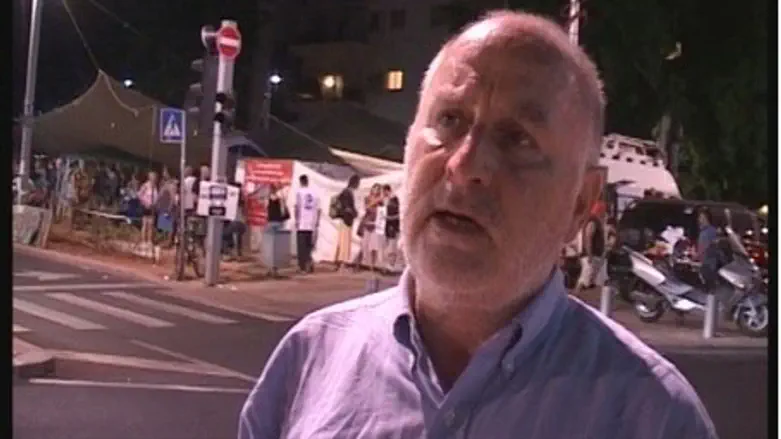 Almagor head Meir Indor
Israel news photo: Yoni Kempinski
Meir Indor, head of the Almagor Terror Victims' Association, called on Israel Security Agency (ISA) Chief Yoram Cohen to apologize to the family of the teen who was stabbed by an Arab terrorist on Shabbat.
In a statement, Indor said that Israel's deal with Hamas, which saw the release of 477 terrorists in exchange for Gilad Shalit, directly led to the stabbing.
"Knowing the family and their son who was stabbed, I call on the head of the ISA, who also knows the family well, to come to apologize to them after declaring a few days ago that he could handle the release of the terrorists," Indor said.
"He should immediately destroy the terrorist's home as if he killed someone," he added.
The 17-year-old boy, Yehuda Ne'emad, was stabbed on Saturday afternoon while sitting on a bench with a friend in Jerusalem's Ramot neighborhood. A neighborhood doctor and medics from Magen David Adom treated him at the scene before rushing him to Hadassah Ein Kerem Medical Center in the capital city.
Ne'emad was stabbed twice, in the stomach and back. He is currently sedated and is on a respirator, unable to breathe on his own.
"The young Arab who came to stab Yehuda did so knowing that he would be released a short time later in an exchange deal," Indor said, referring to the Shalit deal. "This is part of a spontaneous wave of attempted stabbings, stone throwing and petrol bomb throwing, which started when the Shalit deal was made public." There was another incident in Gush Etzion.
He added, "Young Arabs feel that the mechanisms of punishment were abolished with the massive release, and many are trying to liken themselves to those who were released and have become heroes who defeated Israel."
Indor said that a huge propaganda campaign has hit Arab streets since the Shalit deal was implemented.
"There is a huge propaganda campaign which has not reached the Israeli public," he said. "Stories about the terrorists who were released, interviews with them and their families and details of the murders are told on radio and television stations, in the written press and in mosques. All these things become recruiting mechanisms for young individuals to carry out attacks, even before the wave of organized terror attacks now threatening Israel."
"Security officials must find ways to regain deterrence," Indor concluded.
Following the attack, the IDF began a manhunt for the terrorist in the Palestinian Authority village of Beit Iksa. Late on Saturday night, a large force of IDF soldiers entered the village, which is in Area B – an area jointly administered by Israel and the PA.