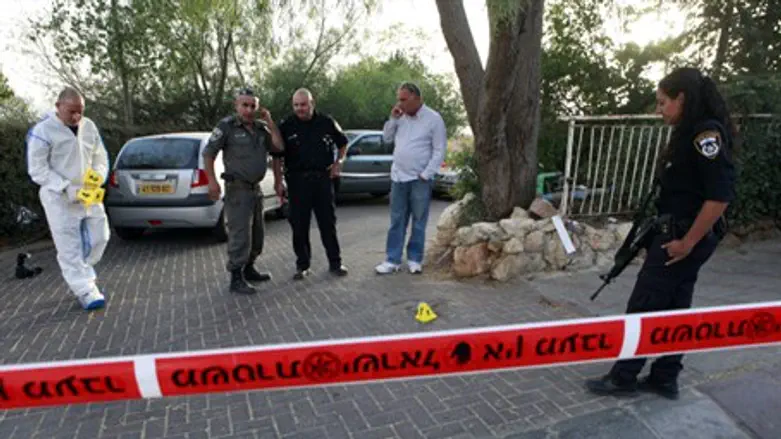 Scene of the stabbing
Israel news photo: Flash 90
A large force of IDF soldiers has entered the Palestinian Authority Arab village of Beit Iksa, in Area B, to search for the terrorist who stabbed 17-year-old Jerusalem yeshiva student Yehuda Ne'emad.
The 17 year old was sitting on a bench chatting with a friend on Zarchi Street, a peaceful street of villas and gardens in the  northwestern Jerusalem neighborhood of 60,000, at about 3:00 p.m. Saturday afternoon.
A helicopter and police on horseback helped forces search the rocky and hilly terrain leading to the village.
Doctors at Hadassah Ein Kerem Medical Center who treated the teen on Saturday night told Arutz Sheva that it was a miracle Ne'emad survived the attack.
The village, about a five minute walk from the Jerusalem neighborhood of Ramot, is located about half a kilometer from the site of the stabbing. Eyewitnesses spoke with police and provided numerous details about the attack. One witness, Aharon Rabin, also spoke with Arutz Sheva TV.
A number of arrests were reportedly made in the village earlier in the evening. Jerusalem police have since issued a gag order against publishing further details on the investigation into the attack, however.
The village is located in Area B, designated as the area jointly administered by the Palestinian Authority and the Israeli government, and under the security control of the IDF. Beit Iksa is situated between Ramot and the suburban community of Mevasseret Tzion.
Dozens of Jewish youths who heard about the attack earlier in the day reportedly tried Saturday night to reach the Arab village via the same riverbed path apparently used by the terrorist, but were warned by police to return to Ramot.