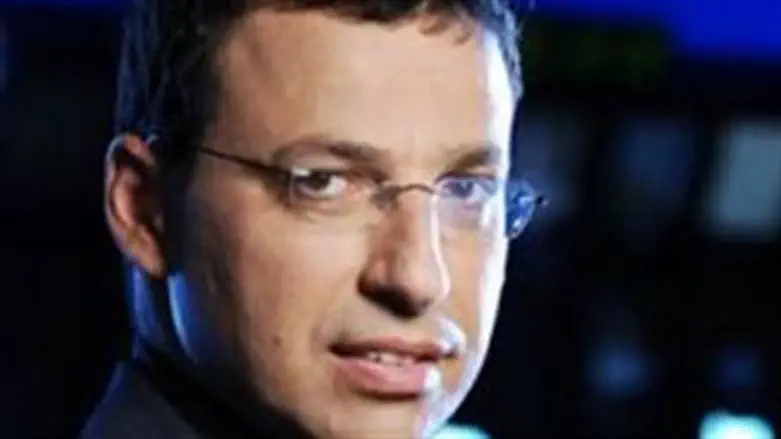 Raviv Drucker
Flash 90
Muckraking journalist Raviv Drucker said Wednesday the conduct of Israel's media in terms of Gilad Shalit was a model of surrender to emotions – which has caused tangible damage to the nation.
Drucker told Israel's Hebrew-language Marker, "The media went bankrupt. It behaved emotionally, crazily and irrationally. This included Channel 10. It was psychosis. One program closed every day with a song about Gilad – and another program made a point of counting the days [he was in captivity]."
"It's not that they silenced critics," Drucker said. "Nobody stopped me when I spoke out against the deal. But there was something childish in how it was handled. The attitude was, 'just bring Gilad home at any cost - we do not care to hear at what price.'"
Drucker said the root of all evil is the surrender to emotion, adding, "There were very strong feelings evoked on the issue. You talk about Hamas cellars, it sounds scary. It was also hyped for ratings. It fed off of and at once fueled the public obsession over the issue."
"They built up the image of a confused, introverted, 19-year old soldier who had not begun his life and was experiencing the most difficult trial. It wasn't the picture of a tough fighter," he explained, referring to the damage to the image of IDF fighters.
Drucker's said he believed Israel was damaged by the media onslaught, which raised the price Israel had to pay by bringing undue pressure on officials to bring results no matter what.
"Of course it raised the price," Drucker said. "Some days I read the paper and it is really hard for me, physically even. We released the Ramallah lynch murderer. No country in the world does something like that!"
Dr. Gabi Avital, Chairman of Professors for a Strong Israel, was also critical of the mainstream media treatment of Gilad Shalit's story, telling Arutz Sheva it was manipulative.
"They crafted a meme that Gilad Shalit is the son of every Israeli, a child. But Gilad is a soldier, duty-bound to defend his country knowing he may have to pay the price. A captured soldier is not a private matter. It's a matter for a sovereign government. This was treated like a real estate deal, or industrial contract."
He also criticized the absence of balanced coverage giving voice to critics of trading terrorists for Shalit until after the cabinet approved the deal.
"The last few days, we suddenly hear many opinions of experts who oppose the deal, but why weren't their voices heard in recent years – where were they until today?"