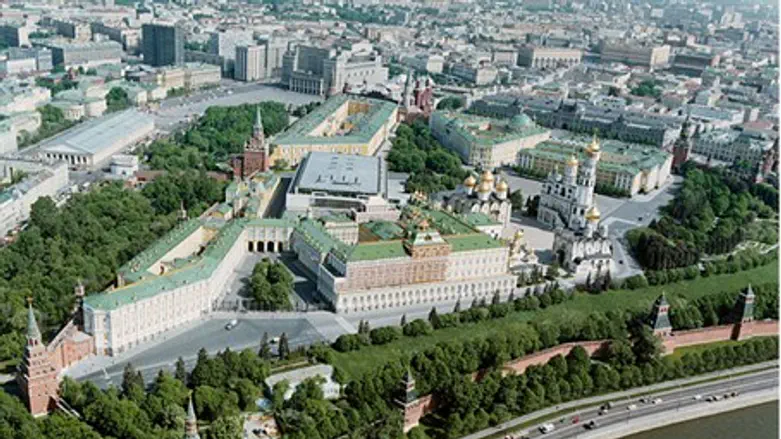 Moscow's Kremlin
ITAR-TASS/Russian Federation
A Hizbullah delegation was welcomed by officials in Moscow on Wednesday for the terror group's first official visit to the Kremlin.
The three-man delegation, headed by Hizbollah MP Mohammad Raad, is scheduled to meet Russian officials for talks on developments in Lebanon and the region, a Hizbollah source told Lebanon's The Daily Star.
The source said discussions will also touch on bilateral ties and issues of common interest.
Russia has opposed Western intervention in Syria as the uprising there enters its seventh month, as has Hizbullah, which has close ties to the regime of Syrian president Bashar al-Assad in Damascus.
Those ties have eroded Hizbullah's reputation as a 'popular resistance movement' eroded due to its backing – and suspected participation in – Assad's brutal crackdown that has killed over 3,000 Syrian dissident to date.
But analysts say Moscow is likely seeking to bolster the terror group, which is a key component of Tehran's axis of influence in the region running through Damascus to Beirut.
Moscow's backing of Iran in recent years has been widely seen as a cold war style strategic move aimed in what may be a resurgent strategic rivalry with the United States and other Western powers over economic interests.
Hizbullah said the visit came in response to an invitation by Russia's Parliament.
The As-Safir newspaper said the Hizbullah delegation will reiterate the terrorist group's role in "protecting Lebanon from Israel."
Hizbullah is also expected to raise the issue of ongoing pressure exerted on it from the West, which it says 'undermines the resistance' with the aim of exerting power in the region and thereby controlling natural resources.
Observers note, however, that Hizbullah has come under increasing fire from March 14 opposition leaders in Lebanon, who demand it disarm and disband its terror militias saying they use then to undermine the will of the Lebanese people.
Criticism has also been leveled that Hizbullah's mode of 'resistance,' which includes pursuing territorial claims without Beirut's consent, has dragged Lebanon into devastating wars it wanted no part of.