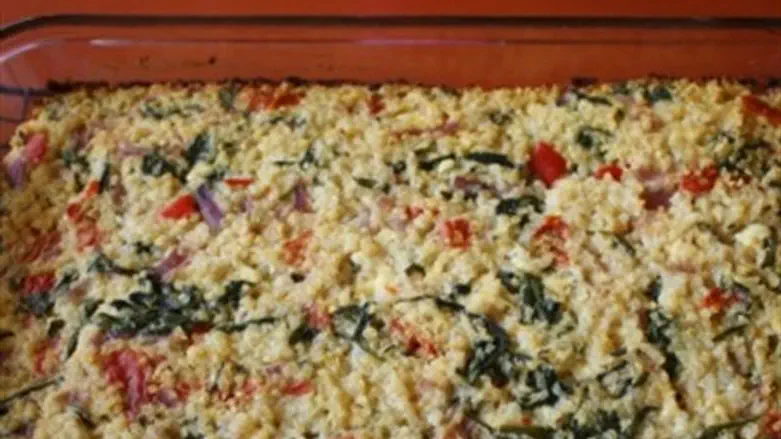 Quinoa Bake
justaddflax
Seasonal cooking not only uses seasonal vegetables, it also uses seasonal methods. Autumn is the season for baking. Logically, this makes sense. Autumn is the time when the nights are getting colder and you want to slightly warm up your house. 
Having the oven on for an hour helps to take the chill out of the evening and to lightly warm us up as well. The longer food is cooked the "warmer" it is. Baked foods are more warming than a summer stir-fry, while they are not as warming as a winter stew which would cook on a low flame for hours.
Here I chose to use quinoa, not only because it is high in calcium and iron, but because I love the way it bakes, all soft and mushy, it kinds of melts in your mouth. You can just as easily substitute it with barley, rice, wild rice, or wheat berries, just adjust the amount of water accordingly.
Likewise with the vegetables. The vegetables I use are commonly found autumn vegetables but feel free to substitute any vegetables you wish. I use the color rule: orange vegetables, white vegetables and green vegetables. Orange vegetables are sweet, white vegetables are pungent and either bitter or sweet, while green vegetables are bitter and salty. When you look at the taste of the vegetables, it is easy to find a suitable alternative.
This recipe is one of my, all-in-one, make-it-easy, Shabbat dishes. You have a whole grain (the quinoa) your veggies, and the option of making it vegetarian or adding chicken or turkey. Plus, the fact that it is simple does not mean that it is not delicious. Another plus here, there is only one dirty pot at the end of the meal. 
Ingredients:
olive oil
1 onion, chopped
3 cloves garlic, chopped
2 carrots, chopped
1 zucchini, chopped
1 bunch beet leaves, chopped
3 jerusalem artichokes, chopped
1/2 bunch parsley, chopped
2 branches thyme, stems discarded
1 1/2 cups quinoa (rinsed)
3 cups water
1/4 tsp turmeric
1/2 tsp cumin (optional)
salt and pepper

optional: 1 chicken, quartered, or 1 turkey roll
Method:
Preheat oven to 180c/350f.
Heat the oil in a large dutch oven. Add the onion and garlic and saute for 3 minutes. Add the remaining vegetables and saute for 10 more minutes. Remove from the flame and add the quinoa, water and spices. Cover and bake for 1 hour.
If you are using chicken or turkey, then put it on top of the quinoa and bake 1 1/2 -2 hours depending on the size of the turkey roll. If the chicken/turkey is skinned then brush with olive oil and paprika to give it color and prevent it from drying out.
Enjoy!