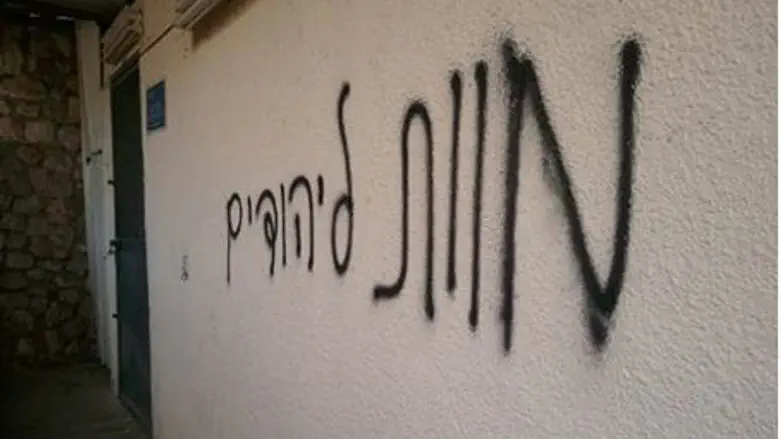 Writing on the wall: Death to Jews
Israel news photo
Vandals, apparently Arabs, scrawled "death to Jews" on four synagogues in Tzfat (Safed) Tuesday night, the latest desecration of holy sites that has plagued Israel in recent weeks.
Tzfat's Chief Rabbi Shmuel Eliyahu told Arutz Sheva he expects Muslim clerics to denounce the desecration and hate messages, but no condemnation has been issued as of yet.
"They must denounce the acts in the name of the Arab people." he stated.
Rabbis throughout Israel have apologized in the name of all of Israel for vandalism at mosques although no evidence has been produced that national religious Jews were responsible.
Israel's mainstream media immediately blamed religious Jews for the desecration of Christian and Arab graves in Yaffo (Jaffa), adjacent to Tel Aviv, but police later said the culprits may have been a secular gang, possibly non-Jews from the former Soviet Union.
In response, a firebomb thrown onto the roof of a synagogue in the area.
Last week, Arabs in the Shechem area sprayed swastikas on the walls of Joseph's Tomb (Kever Yosef) two days before the beginning of the Yom Kippur holy day. The IDF covered the desecration with white paint before Jews arrived at the site for Yom Kippur prayers.