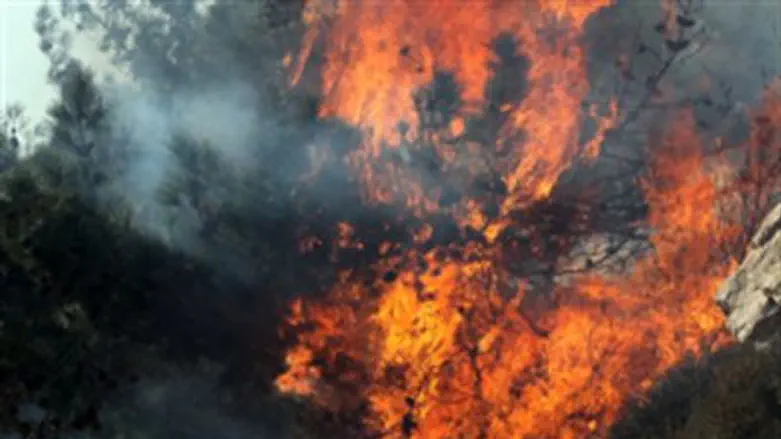 Forest fire (file)
Israel news photo: Flash 90
On Thursday morning a large olive grove belonging to Jews in Park Bar-On was burned near the town of Kedumim in central Samaria. One hundred twenty olive trees were incinerated in the blaze.

Three firefighting crews converged on the blaze in an attempt to put it out. They were finally able to bring it under control about 10:30 Thursday morning, although it did flare up again shortly after, requiring crews to again attempt to douse the blaze. The fire was brought under control a second time after several hours, and firefighting crews decided to remain in the area in order to ensure that the blaze was completely out.

Speaking to Arutz Sheva, Aryeh Eideliss, manager of the grove, said that Arabs have set fires to the olive trees under his care in the past. "This grove was also set on fire last year, but nothing was done about it," he said.  Eideliss added that the purpose was not just to destroy Jewish-owned property. "Arabs burn down an orchard and quickly move in, planting their own trees, thus 'redeeming' the land from the Jews."

Eideliss said that despite repeated appeals, authorities have taken no action at all to protect Jewish orchards and farms in Judea and Samaria. "The only response I have ever gotten was that they were aware of the problem and planned to take action, but nothing has been done so far," he added.