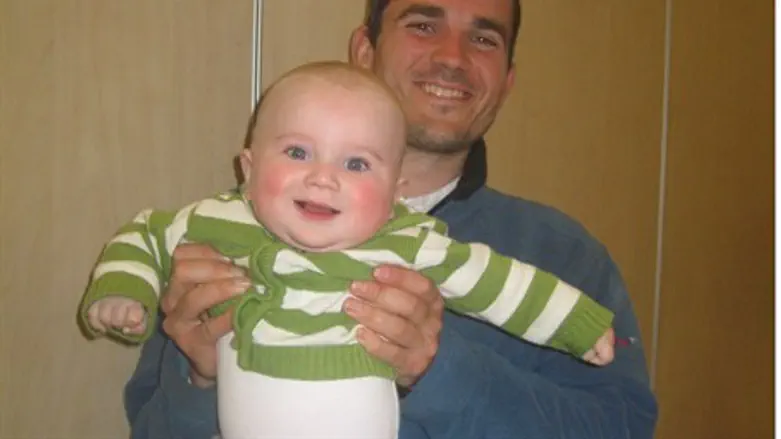 Asher and Yonatan Palmer
Israel news photo: Courtesy of Palmer family
The Defense Ministry announced on Wednesday that it recognizes Asher Palmer and his son Yonatan, who were murdered by terrorists last Friday, as victims of terror.
At first, it was reported that the two were killed in a car accident caused by human error and not by a terror attack. This determination was made despite evidence that at first failed, for unknown reasons, to convince police that terrorists may have been involved: a hole in the front windshield of the car, a massive rock found in the front seat with human blood on it, a tear in fabric of the steeling wheel cover and dust indicating a blow from the rock, and damage to Asher Palmer's face suggesting an impact unrelated to the crash.
An autopsy and a CT scan of Asher Palmer's face showed evidence of facial fractures caused by a rock, causing authorities to determine that the accident was a terror attack.
Yet even after it was determined that the incident was a terror attack, the Palmers were not recognized as terror victims and did not receive the support normally given to those bereaved by terror.
Normally, social welfare workers contact the relatives of those slain by terrorists and offer assistance with the funeral and the shiva, the traditional seven-day mourning period. Relatives are immediately given an aid package, and professionals form ties with the family to assist them in surviving their loss.
The apparent cover-up by police of the fact that the incident was a terror attack was met with outrage by Jewish residents of Judea and Samaria. Sources in the Hevron Regional Council expressed the feeling that the facts were concealed so that there would be no disturbances while Prime Minister Netanyahu was in the United States.
(Arutz Sheva's North American Desk is keeping you updated until the start of Rosh Hashanah in New York. The time posted automatically on all Arutz Sheva articles, however, is Israeli time.)