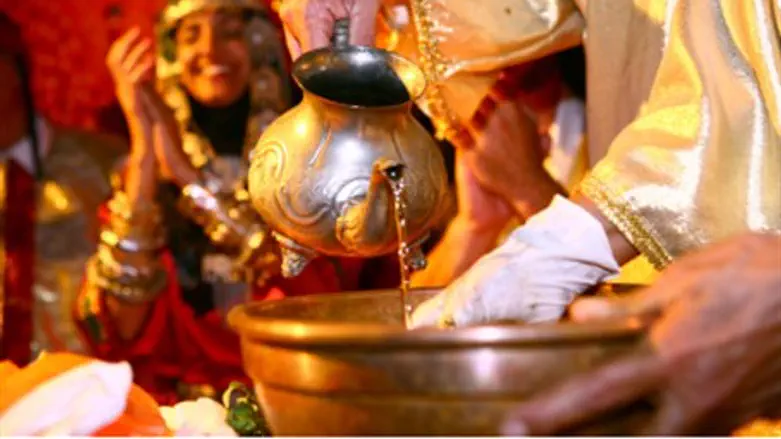 Traditional henna ceremony
Israel news photo: Flash 90
A clear majority of Israeli Jews see themselves as religious or 'traditional,' according to newly released data from the Central Bureau of Statistics (CBS).
Eight percent of Jews define themselves as hareidi, 12 percent as religious, 13 percent as religious traditionalists, 25 percent as "traditionalists who are not so religious" and the remaining 42 percent as non-religious or secular. 
The statistics released for the approaching Rosh Hashanah relate to the end of 2010. At that time, the Israeli population numbered  7,797,400 people, of whom 5,874,300 are Jews, comprising 75.4 percent, and 1,600,100 are Arabs, comprosing 20.5 percent of the total. Another 318,000 are neither Jews nor Arabs (Druze, Circassian etc.). 
About 217,000 foreign laborers were not included in the population total.
The general population is rising at about 1.9 percent annually, as it has been for the past eight years. The Jewish population is growing by 1.7 percent annually, while the Muslim population is increasing by 2.5 percent each year.
Jews are marrying later every year: About 64.4 percent of male Jews aged 25-29 are still unmarried, as are 45.5 percent of the women in that age range. In the year 2000, these numbers were 54 percent and 38.1 percent, respectively. 
Among Muslims, 43.5 percent of men and 19 percent of women in this age group are unmarried.