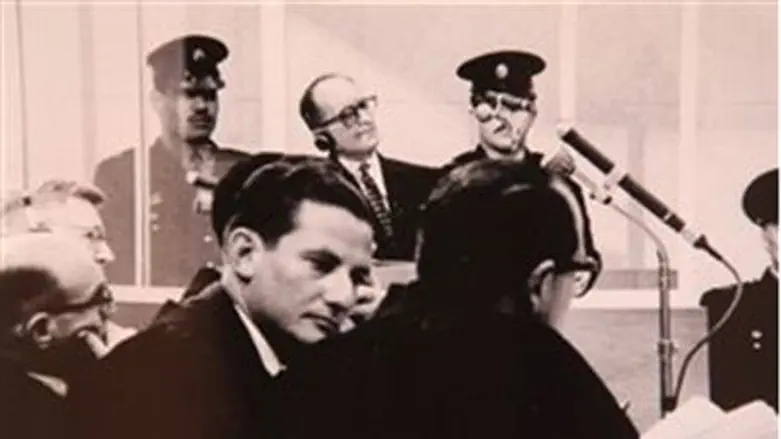 Eichmann Trial
Israel news photo: Flash 90
Hundreds of Jewish German students plan to gather this coming weekend to mark the 50th anniversary of the trial of Nazi war criminal Adolf Eichmann.
The students will meet in Budapest at a conference organized by the Jewish Agency with Holocaust survivors Yosef Kleiman and Avraham Aviel who testified against him 50 years ago in court. They will also become acquainted with Jewish life in Hungary and experience the preparations being made for the Jewish New Year, Rosh HaShanah.
The conference is held annually for young people in Germany, most of whom are alumni of "Israel experience" programs.
During the gathering the students will discuss the memory of the Holocaust, its influence on Israeli and German society and its implications for the Jewish identity of the younger generation of German Jews.
Decimated though it was following World War II, Germany's Jewish community today is one of the largest in Europe, numbering approximately 250,000. Most are immigrants from the former Soviet Union.
The student conference is part of the Jewish Agency's initiative to strengthen the bonds of young German Jews with the State of Israel, noted Dr. Michael Yedovitsky, director of activities in Germany and Central Europe for the Jewish Agency.
Also participating in the Budapest conference will be Simon Wiesenthal Center director Dr. Efraim Zuroff, Israeli historian Dr. Gideon Greif, Coalition Chairman MK Ze'ev Elkin and Yad Vashem School for Holocaust Studies representatives Rabbi Yeshaya Balog and Shlomit Steiner.
"Hundreds of German Jews participate in the Taglit-Birthright and Masa programs each year," noted Yedovitsky. But, he added, "their participation in the conference after they return from such programs [is what] allows many of them to continue a process that began with their visit to Israel."