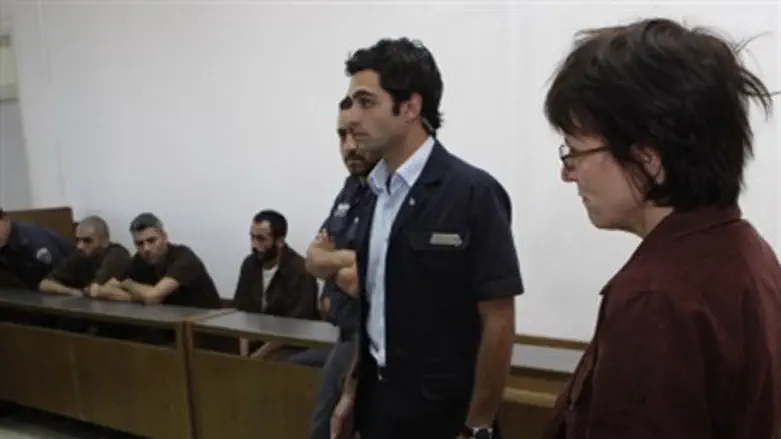 Wilson faces the attackers.
Israel news photo: Flash 90
The trial of three Palestinian Authority (PA) Arabs charged with the sadistic murder of a Christian tourist and the attempted murder of her Israeli friend began Sunday in the Jerusalem District Court. 
The Arabs, Aiad Fatfata, Kifakh Ganimat and Ibrahim Ganimat, are residents of the villages of Surif and Tarkumiya in the Hevron area. They are charged with two counts of murder, two attempted murders and rape, in a series of crimes they took part in as part of a suspected 13-man gang. 
Wilson told the court Sunday of the horrific ordeal as the accused men sat in the defendants' bench and looked on. Luken's brother, Dean Luken, flew in from Texas to attend the hearing.
The attackers approached the women in the forest and tied them up. They later confessed to Israel Security Agency (Shin Bet) interrogators that they had come there with the intent of murdering Jews. 
"I saw Kristine being murdered in front of my eyes," said Wilson, describing how one of the killers gingerly removed her Star of David necklace and then stabbed her. She played dead in order to save her life, while Luken was dying. "She screamed. I did not want him to hurt me. I tried not to utter a sound. It was difficult because the pain was great but I tried to play dead. I heard Kristine uttering her last gasps. I was not sure if I was alive," she told the court.
She realized that despite being stabbed 12 times with a breadknife, she was alive. The knife had failed to penetrate her heart. 
"He came back a few minutes later to verify the kill. He stabbed me in the chest," Wilson said.
"A few minutes later I woke up, but not in the same place where I had been stabbed. I wanted to go back to the path so that they would find my body and know that it had been a murder," she explained.
She said that she decided not to stay with her friend in her last moments because she was losing blood herself.
"I managed to get up and I walked barefoot, bleeding with broken ribs, for 15 minutes, until I saw someone I could ask for help."
The gang of 13 Arabs are suspected of 21 crimes between 1997 and 2010, including the murder of Neta Shorek, a schoolteacher from Zikhron Yaakov, the attempted murder of a Jewish couple and seven burglaries. Shorek's death was reportedly deemed a suicide until one of the gang members confessed to committing it.