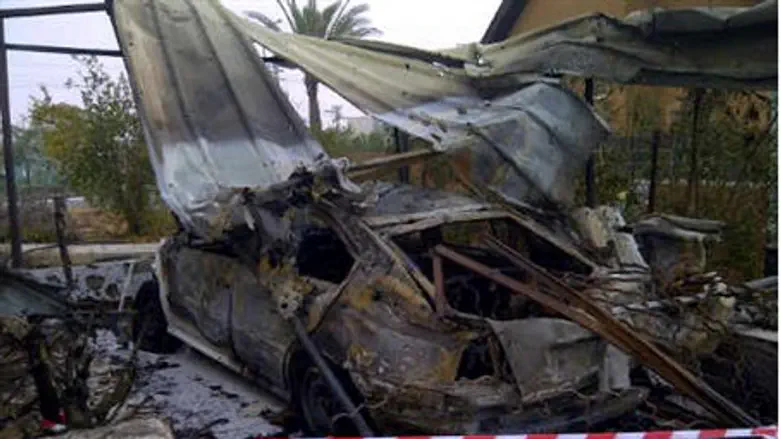 Grad Katyusha impact site, Beersheva
Arutz Sheva: Hatzolah Rescue Service
Residents of southern Israel raced for cover again Wednesday night as Grad Katyusha missiles slammed into Be'er Sheva and Ashkelon.
In Ashkelon, a 9-month-old baby was hurt at about 11:00 p.m. when a missile hit the car in which she was traveling, causing it to explode in flames. A second rocket aimed at the Ashkelon Coastal region landed in an open area.
Gaza terrorists fired two missiles at the 200,000 residents of Be'er Sheva at about 10:30 p.m. The Iron Dome anti-missile system managed to intercept one of the rockets, but the other exploded within the city limits.
Two short-range Kassam rockets also landed in the Eshkol Regional Council district, exploding in open areas. No physical injuries or damage was reported.
A total of at least 12 rockets had been fired at southern communities by 11:00 p.m., peppering the areas around Ofakim, Netivot, Ashkelon, Be'er Sheva and elsewhere in the western Negev.
The unstable security situation had forced authorities to cancel the "Breeza" festival events scheduled for this evening (Wednesday) in Ashkelon. Earlier in the day Home Front Command ordered Gaza Belt residents to remain within a 15-second range of safe spaces or bomb shelters.
Israel Air Force pilots foiled an attempt by Gaza terrorists at approximately 11:00 p.m. to launch another rocket attack on southern Israel. The IDF confirmed a direct hit on the terror squad, and told reporters that all personnel returned safely to base.
Early Wednesday morning the IAF eliminated a local Islamic Jihad commander based in Rafiah, the city that straddles the Gaza-Egypt border.
Two other terrorists in separate locations in Gaza were targeted in IAF air strikes Wednesday morning as well while attempting to launch rocket attacks on southern Israel. Direct hits were confirmed in each case.