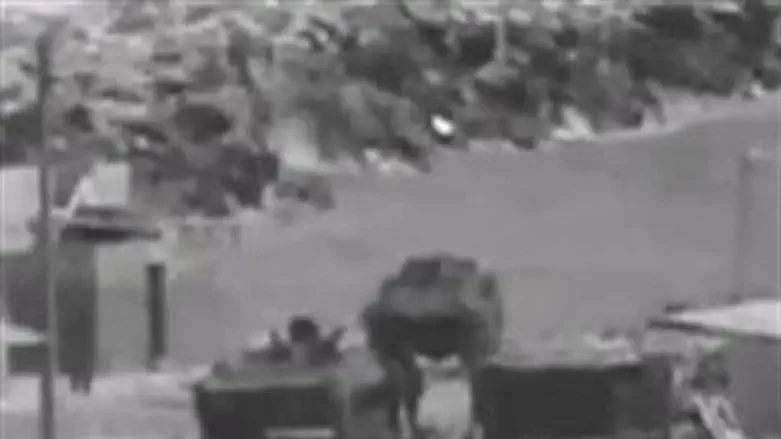 Tanks In Latakia
Arutz Sheva: Screen Capture
Syrian government forces began Wednesday morning to withdraw from the port city of Latakia, leaving 34 dead and more wounded, in their wake.
The troops began leaving the neighborhood after completing "their mission," Brigadier General Mohammad Hassan told the state-run SANA news agency. There was no indication the army has any intention of abandoning its policy of invading cities to crush the nightly anti-government Ramadan protests that appear to be gaining momentum despite the army's brutality.
"The neighborhood is recovering and citizens have returned to normal life that was spoiled by the acts of the terrorist groups," Hassan said, in apparent reference to rebel groups targeted in the crackdown by Syrian President Bashar al-Assad. Barriers and roadblocks had apparently been set up by protesters to slow down the government forces as they invaded the city on Saturday.
State-run Syrian television reported that troops were removing the barriers, and sappers were dismantling bombs and mines reportedly planted in the streets of the suburb as well. The television station also reported that a number of arrests were made.
It is impossible to verify any of the reports about what is happening in Syria due to the fact that government forces have prevented most foreign media and NGO workers from entering the country. The most recent figures from human rights organizations show that as many as 1,790 civilians and some 410 security workers have died since protests began in March, calling for Assad's ouster.
Earlier in the week, troops rounded up some 10,000 Arabs in the al-Ramel neighborhood into a stadium, where they confiscated their identity cards and mobile phones. Most of those who were forced into the stadium are still classified by the United Nations as "refugees" even decades after the oldest  among them originally moved to Syria following the 1948 and 1967 Arab wars against Israel because they, their children, grandchildren and great-grandchildren in Al-Ramel have been denied citizenship by the countries to which they immigrated - including Syria. The same holds true for the millions of other Arabs whose forebears moved to Arab countries that border Israel.