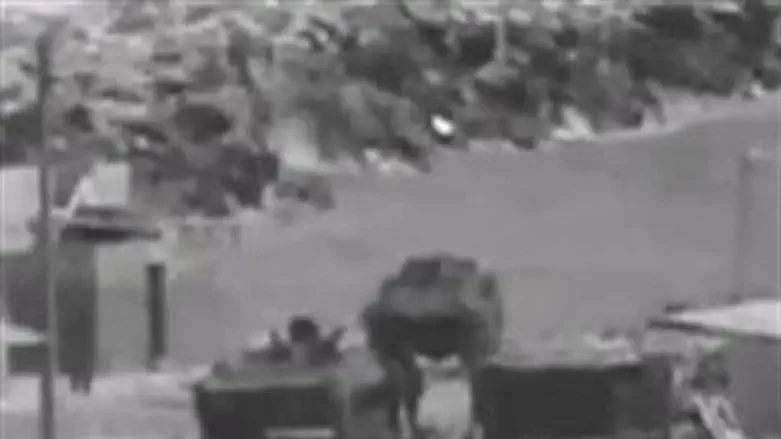 Tanks In Latakia
Screen Capture
Syrian warships and tanks continued to shell residential districts in Latakia on Monday.
The assault, now
entering its third day
, has targeted Sunni neighborhoods of the ancient port city where mounting protests against President Bashar al-Assad are taking place.
Around 20,000 people have been rallying daily to demand Assad's removal in different areas of the city after Ramadan evening prayers, said one witness, a university student.
Assad, from Syria's minority Alawite minority, has broadened his bloody military crackdown to try to crush a five-month uprising demanding his removal since the start of the Muslim fasting month of Ramadan on August 1.
"The minority regime is playing with fire. We are coming to a point where the people in the street will rather take any weapon they can put their hand on and fight than be shot at, or arrested and humiliated," one activist told reporters.
"We are seeing civil war in Syria, but it is one-sided. The hope is for street protests and international pressure to bring down the regime before it kills more Syrians and drives them to take up arms," he added.
Latakia is the latest city to be stormed after Hama, scene of a 1982 massacre by the military, the eastern city of Deir al-Zor, capital of a tribal province bordering Iraq's Sunni heartland, and several towns in the northwestern Idlib province, which borders Turkey.
In a pattern seen in other population centers across Syria attacked by core military forces loyal to Assad, tanks and armored vehicles deployed around dissident neighborhoods and essential services were cut before raids and arrests, and bombardment, residents said.
"Shelling has renewed on al-Raml al-Filistini (Palestinian Sand, a neighbourhood with Palestinian refugees) and al-Shaab districts. There is heavy machinegun firing on Sulaibeh, al-Ashrafieh, al-Quneines and al-Ouneineh and the citadel neighborhoods," one resident, a business owner who did not want to be further identified, said by telephone.
"People are trying to flee but they cannot leave Latakia because it is besieged. The best they can do is to move from one area to another within the city," another witness told Reuters.
Unlike most other Syrian cities, which are predominantly Sunni, Latakia has a large Alawite population because of its proximity to the Alawite Mountains and because Assad and his father have encouraged Alawites to move from their traditional mountain region, offering them cheap land and jobs in the public sector and security apparatus.
Latakia port figures highly in the Assad family domination of the economy, with Bashar al-Assad's late uncle Jamil having been in virtual control of the facility, and a new generation of family members and their friends taking over.
The assaults by Syrian security forces -- considered the most belligerent thus far -- are being met with
increasing international condemnation
, but Assad seems thus far nonplussed by criticism not supported with broad material action against his regime.
Syrian authorities have expelled most independent media since the beginning of the uprising, making verifying reports from inside the country difficult.
%ad%