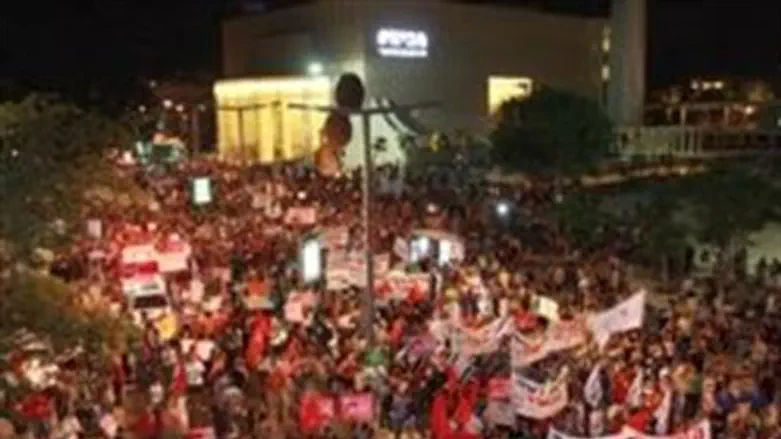 Housing Protests
Flash 90
The Trachtenberg Committee, appointed by the government to figure out ways to lower the cost of living for middle class Israelis, met for the first time Monday afternoon. Professor Manuel Trachtenberg, head of the committee, told members that the fact that it was very significant that the first meeting on Tisha B'av.
"This is one of the most difficult days on the Jewish calendar, but now it also represents a new beginning for the Jewish people. I hope that this committee will help bring that new beginning about," Trachtenberg said.
The committee was first suggested by Prime Minister Binyamin Netanyahu several weeks ago, and the idea has proven very popular among government officials – to the extent that 18 ministers requested to become members of the panel.
Besides ministers, the committee will consist of advisors from the labor, manufacturing, and business spheres, as well as representatives of protesters who are demanding a more affordable cost of living. The group has been termed in the media "the Rothschild team," as it was designed to provide the government's response to the demands of protesters.

Trachtenberg told the group that "the protest movement we are seeing is seeking to bring to reality the ephemeral concept of 'social justice.' Whether change comes about is dependent on our ability to listen and interpret the needs and desires of the public, and turn them in a professional manner into functional state policy. This will not be easy, but we will do it. I am very excited at the rare opportunity to bring about a change for good in our beloved state. We have no choice but to succeed. This committee is different than others because we are more aware of the need for social sensitivity," he said.

The committee will meet several times a week, evaluating and discussing ideas, and hammering out a plan that will be presented to the government in September. While the committee has not yet started its work in earnest, reports in the Israeli media Monday night said that the Treasury would make wide-ranging proposals to lower prices and indirect taxes for the middle class.
Among the proposals, the report said, would be a reduction of at least 2% in VAT (Value Added Tax), a sharp reduction in import and purchase taxes, accelerated assistance for day care, and a partial tax deduction for expenses related to raising children. The benefits would be paid for by putting a hold on a planned reduction in corporate taxes, instituting a salary cap for highly paid government workers, higher taxes for big earners, and a cut in the military budget.

In an interview with the Knesset Channel, government minister Benny Begin said that establishing the Trachtenberg committee had been an important move, "but there must be one guiding principle the committee observes – do not commit to spend any money beyond the set budget. This will provide an important signal to the markets, the stock exchange, and corporations that we will not allow Israel to deteriorate economically like other countries, whose financial standing was good until now."