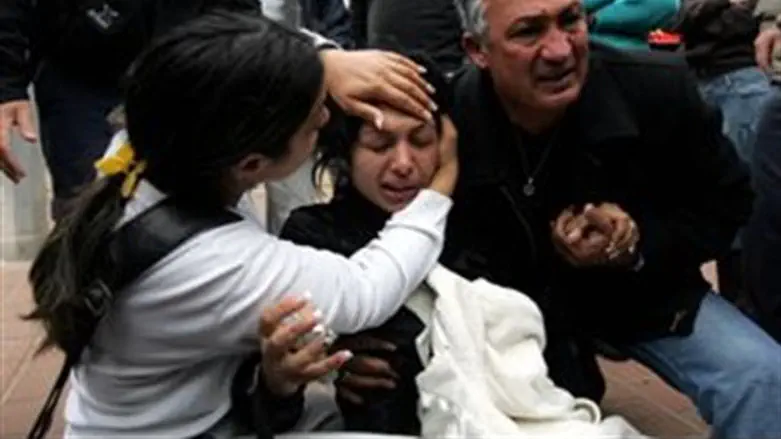 Sderot rocket victim
Israel news photo: Flash 90
NATAL: Israel Trauma Center for Victims of Terror and War recently presented the findings of new research it conducted regarding the situation in Sderot today, following ten years of continued rocket fire and the 2009 Operation Cast Lead in Gaza.
The research was conducted by Mark Gelkopf, the head of research in NATAL and Associate Professor at the Community Mental Health Department at Haifa University.
While the situation in southern Israel is currently considered calm, the opposite is the truth. And while fewer rockets seem to be falling, residents are still dealing with the psychological effects of the continuous attacks, as NATAL's Executive Director Orly Gal explained based on the research.
"One in three adults in Sderot suffers from symptoms of post trauma," Gal told Arutz Sheva. "This means that people are having flashbacks and also cannot sleep at night and cannot have a normal relationship with their spouses or kids.
"We also checked more than 500 kids," she added, "and we found that 71 percent of the kids in Sderot suffer from these symptoms."
The stressful situation in the south has been going on for so long, that many children in Sderot were actually born into this security situation.
"Kids who were born into these Kassams, which can come during the day or during the night, go to sleep with their shoes on," said Gal. "They want to sleep in their parents' bed. It's unbelievable to hear these stories. They go into the shower with bathing suits on so that if a siren goes off they can immediately run into the shelter."
In fact, said Gal, the trauma and stress are easier to monitor and diagnose during days that are considered "routine" and "calm."
"The feeling of sitting and waiting for something that you know what it's like when it happens but you don't know when it will happen makes you very nervous," she explained.
NATAL is an apolitical non-profit organization, founded by the late Dr. Yossi Hadar, M.D. who conceived and initiated the idea, and Judith Yovel Recanati who serves as a Chairperson. NATAL was established in 1998 with the aim of increasing public awareness of National Psychotrauma caused by the Israeli-Arab conflict. This form of trauma differs from other forms, as it is the result of Post-Traumatic Stress Disorder (PTSD) stemming from national traumas.
NATAL seeks to provide emotional and psychological treatment and assistance to any Israeli suffering from Post Traumatic Stress Disorder as a result of the Arab-Israeli conflict; to train professionals and at risk populations throughout Israel in prevention and coping mechanisms for PTSD; and to advance awareness and knowledge about National Psychotrauma and terror and war related PTSD in Israeli society.
Among the many things the organization does is help Sderot's citizens deal with the trauma.
 "We work on resiliency," said Gal. "If we give them the tools and they know how to behave, what to do, how to think, how to breathe, how to act in a stressful situation, we think they will be ready in a better way."