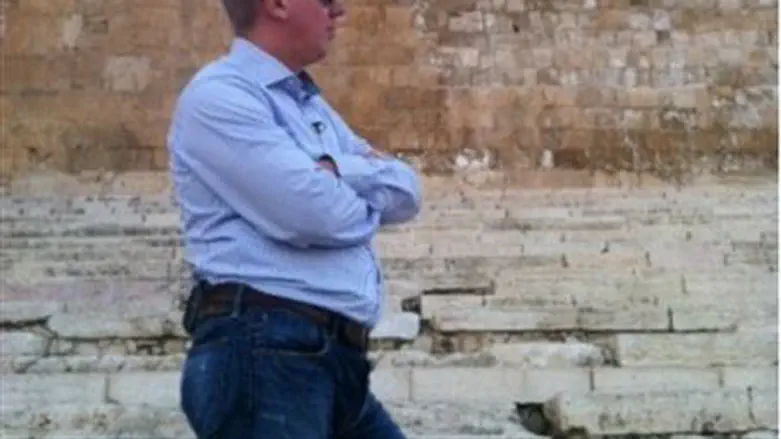 Glenn Beck with kipa at Temple Mount
Israel news photo provided by Fern Sidman
Glenn Beck has been stared down by 40,000 Muslims and said he is moving his "Restoring Courage" rally next month from the Temple Mount. One possible venue is the Mount of Olives.
Email readers: click HERE and scroll down to view vidoes.
t
Beck was in Israel last week at the invitation of Knesset Members Danny Danon (Likud) and Nissim Ze'ev (Shas) to offer advice on fighting the worldwide campaign to make Israel appear illegitimate.
Beck also ironed out details of the rally that he announce earlier this year, but he  told viewers on his television program, "I told you last Friday we had heard…that 40,000 Muslims would be on top of the Temple Mount" during the rally….
"When we heard about the Muslims, we knew there was trouble… The firs time I was in Israel, they were throwing stones down on the heads of Israelis praying" at the Western Wall.
"When I heard '40,000,' my security said, 'Your back is in their direction, and these people play for keeps.'"
Beck explained his change of location by stating that "courage is coupled with wisdom"  and that he would not put his lives and the lives of others in jeopardy.
He added that the original choice of the Temple Mount for the rally was not his decision, saying it was chosen for him, and implying that he was directed to it by the Creator. "It was my understanding we would be the first Christians to use the site as a high profile event."
Beck added that he believes the rally "will be remembered by millions in the world as a turning point in their own personal lives and their world. However, we prefer that turning point is not World War III."
He said he soon will decide whether to hold the rally inside the walls of Jerusalem or directly outside, "maybe the Mount of Olives, which would be kind of appropriate. We would be looking at the eastern wall... We believe the messiah will go through there" even though it is bricked up, as if "some people think you can stop the messiah with bricks."