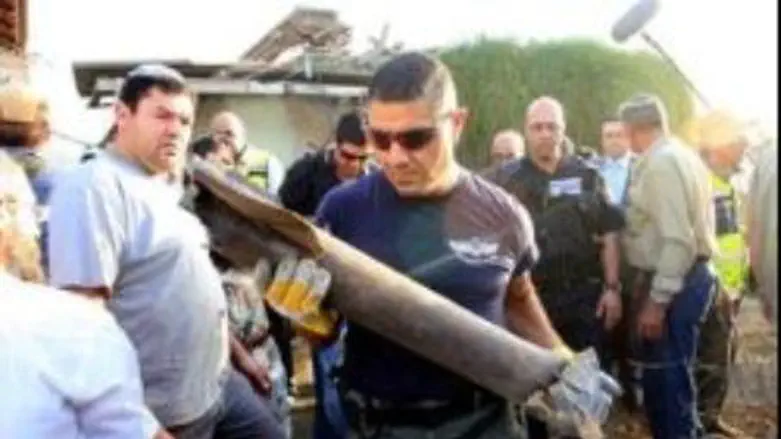 Kassam rocket
Israel news photo: Flash 90
Terrorists fired a rocket from the Gaza region early Thursday morning. The rocket landed in an open area near a kibbutz in the Sha'ar Hanegev Regional Council. There were no physical injuries and no damage done to property.
Overnight Wednesday, IAF aircraft attacked three terror targets in Gaza, including two tunnels used by terrorists to smuggle weapons into the Strip.
The IDF Spokesperson confirmed the attacks and said in a statement: "The IDF will not tolerate any attempt to harm Israeli civilians and IDF soldiers, and will respond with determination to any attempt to use terror against the State of Israel. The IDF holds the Hamas terrorist organization solely responsible for any terrorist activity emanating from the Gaza Strip."
This past week has seen an escalation in rocket attacks: On Wednesday, a rocket launched from Gaza hit a southern Israeli community. The IDF website said the community was located within the Eshkol Regional Council and was home to approximately 10,000 residents. There were no physical injuries or damage to property in the attack.
Two Kassam rockets were also fired on Tuesday evening from Gaza, landing in the Sdot Negev Regional Council area. One rocket caused light damage to a house in a local kibbutz. The second rocket landed in an open area.
A short time later, a mortar shell fired by terrorists from the Gaza region landed and exploded in an open area near a kibbutz in the western Negev. There were no casualties or damage.