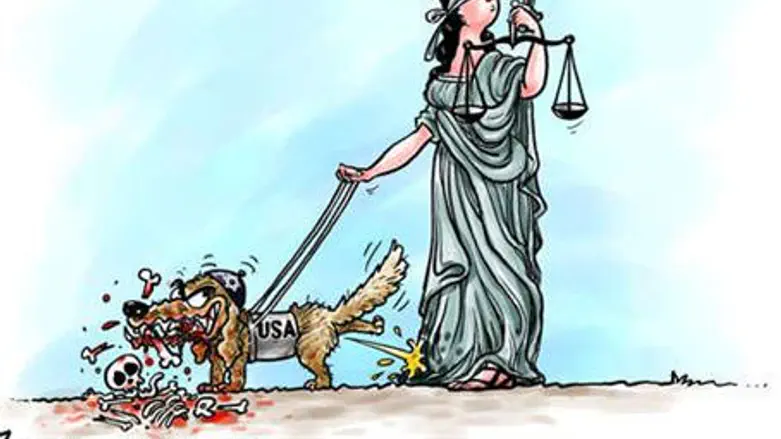 Cartoon that appeared on Falk blog.
Israel news photo: Falk's blog
The United States, joined by American Jewish groups, has called on the United Nations to sack its rapporteur on PA rights, Richard Falk.
Falk posted an anti-Semitic cartoon on his blog, and when criticized, replaced it with an apology that claimed he could not detect the anti-Semitic content of the cartoon "until it was pointed out," and appeared to equate Jews with animals.
The New York-based Anti-Defamation League (ADL), B'nai Brith International, U.N. Watch (AJC) and Conference of Presidents of Major American Jewish Organizations, joined the Obama administration – as well as U.S. Representative Ileana Ros-Lehtinen (R-FL), chairwoman of the House Foreign Affairs Committee – in calling on the U.N. to sack Falk, or at least issue a statement of condemnation.
"This latest action compounds the long existing problem of Mr. Falk's blatant biases and repugnant behavior," said a statement issued by the President's Conference.
"His history of hateful provocations, including the spread of 9/11 conspiracy theories blaming the United States for self-inflicted terrorism, and comparison of Israelis to Nazis, are evidence that he cannot fulfill his responsibilities consistent with the U.N.'s mission and standards."
Joseph Torsella, the U.S. envoy to the United Nations for management and reform, had already slammed Falk in an earlier statement Friday, saying he was "deeply disturbed" the rapporteur had "once again used his personal blog to publish abhorrent material.
"His shameful and outrageous behavior is an embarrassment to the United Nations," he added. "Someone who publishes such vicious images has no place in the U.N. system."