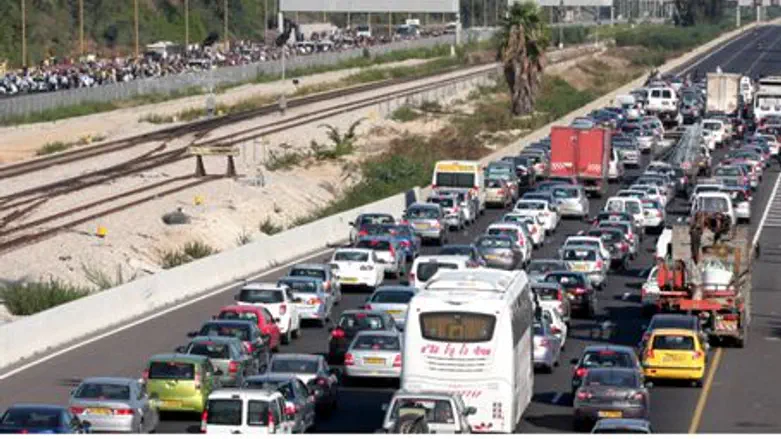 The Ayalon Highway
Israel news photo: Flash 90
Professor Eliyahu Richter spoke to Arutz Sheva's Hebrew-language news service Sunday about the problem of traffic accidents and traffic fatalities in Israel.

The interview took place on a day when a particularly horrific accident was reported: Chai-Ziv Kriaf, 24, and his wife Shani, 22, who was six months pregnant, were killed when they were hit by a truck after stopping on the shoulder of Highway 4 to change a flat tire.

The number of people killed on Israel's roads is growing, said professor Richter, and the primary cause is increasing speed on the roads. "Speed kills," he said simply. "Every ten percent increase is likely to increase the number of fatalities."

Richter is a safety expert working with Hebrew University, and has done studies about the link between high speed and traffic deaths. He believes that Transportation Minister Yisrael Katz's 2010 decision to raise the speed limit on several highways is responsible for the rise in the traffic death toll this year.

"He must be fired, even though he has a fig leaf in the form of 'experts,'" Richter said of Katz. He cast doubt on expert testimony regarding speed limits used by the Transportation Ministry, suggesting that the experts in question were under the influence of outside sources, or had their own personal biases. Two of them were even caught driving at crazy speeds of 170 or 140 kilometers per hour, he said, adding, "They are addicted, and the public pays the price."

While the 2010 increase in speed limit was kept just under 10 percent, one must take into account the fact that drivers will often allow themselves an additional few kilometers per hour over the stated limit, Richter said. He also warned that raising speed limits on highways can lead to drivers moving more quickly on nearby roads as well.
Camera Network to End Speeding
Beyond a reduction in the speed limit, Richter proposed installing cameras on highways across the country to catch speeding drivers. He was one of the main forces behind a plan that would have seen 200 cameras installed, and believes the installation of the first cameras brought the casualty rate on Israel's roads down.

However, the number of cameras planned was later reduced to 60, then 40, and the casualty rate rose, a result Richter attributes to drivers losing their fear of being caught speeding. He lamented the decision to change the plan, saying, "Instead of 400 dead, there should have been 200."