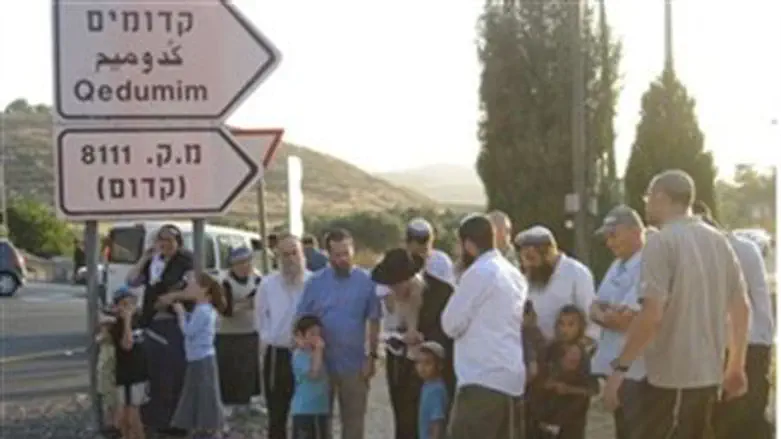 Protest in Kedumim Junction
Israel News photo: Shosh Shilo
Hundreds of Samaria residents took part throughout the day on Monday in protests over the arrest and questioning of Rabbi Dov Lior, rabbi of Kiryat Arba.
One of the protests took place near the entrance to Shechem, where 300 residents blocked the entrance to the city for more than an hour.
During the demonstration, Samaria's Chief Rabbi, Rabbi Elyakim Levanon, said: "The State is hurting itself first and foremost - the judiciary system is setting itself above the legislature. The State Attorney's Office controls the state and this is a dangerous recipe for destruction of the democratic state."
Benny Katzover, who heads the grassroots Samaria Residents' Council, warned during the demonstration that Rabbi Lior's arrest will stir things up.
"This is an intolerable and outrageous act, the likes of which we have not seen," he said. "Throughout history, we protested over regimes that lowered the dignity of Jewish rabbis and here in the Jewish state, the Israeli police allows itself to degrade the rabbi of Kiryat Arba. The police are mindlessly throwing the match that will cause many people to react with outrage."
Another protest took place in the Shavei Shomron junction, where about 50 people blocked the intersection for about an hour. Rabbi Yehoshua Schmidt, the head of the Hesder Yeshiva in Shavei Shomron, said during the protest, "We see the continued harassment of the great men of Israel. There has never been anything like this - Jews hurting great and important rabbis whose students serve the country and build the Land of Israel. This is a slap in the face to the good among the people of Israel."
In a third incident, dozens of residents blocked the Jit junction near Kedumim. Police arrested two boys.
The protests in Samaria followed another protest in Jerusalem, where hundreds of nationalist activists blocked the main entrance to the city and Shmuel HaNavi junction in protest over Rabbi Lior's arrest.
The basis for the arrest remains unclear, but it is likely connected to an arrest warrant issued earlier this year for Rabbi Lior, after he refused to report to the police for questioning over an endorsement he gave to a book by Rabbi Yizhak Shapira entitled Torat Hamelech. The book discusses the halakhot of waging war and taking non-Jewish lives in battle.
At the time, Rabbi Lior explained he believed he was not obligated to appear before the police, despite the normative practice that one follows the law of the land, because it was Torah itself being put on trial.
Monday's arrest was met with rage by the religious Zionist leadership in Israel.