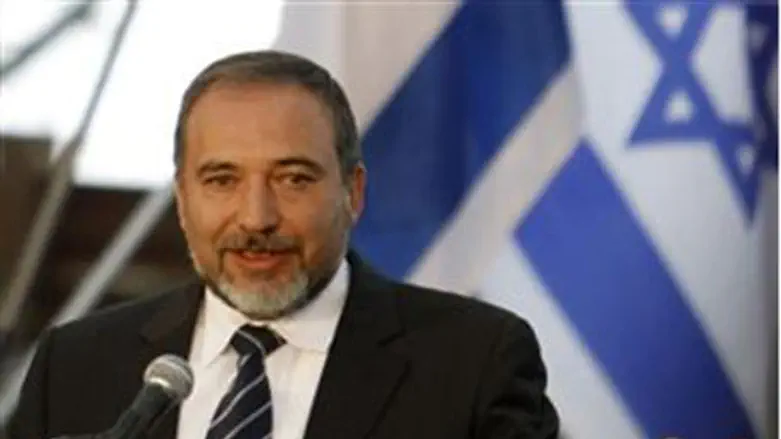 FM Avigdor Lieberman
Israel news photo: Flash 90
Foreign Minister Avigdor Lieberman told European Union counterpart Catherine Ashton on Friday a unilateral declaration of statehood by the Palestinian Authority would nullify the Oslo Accords.
The 1993 Olso Accords, which stipulate a bilateral framework and proscribe unilateral moves, serve as the basis for economic, infrastructure, and security cooperation between Israel and the Palestinian Authority.
"A move like that will be a violation of all the agreements that were signed until today. Israel will no longer be committed to the agreements signed with the Palestinians in the past 18 years," Lieberman said.
"In light of Abbas's current stance, the chances for negotiations are zero," Lieberman added, dowsing speculation set in motion by Shimon Peres who said peace was possible before September.
"Abbas is not interested in an agreement," the foreign minister explained. "He wants conflict, because that is his personal interest, even though it is against the Palestinians' interest, and many oppose him."
"Israel is prepared to renew negotiations. The ball is in the Palestinians' court," Lieberman said.
The nullification of the Oslo Accords would, in all likelihood, render a nascent PA state not viable and ultimately force Israel to assert jurisdiction in areas currently administered by the PA.
It is unlikely the PA, whose US-trained and equipped security forces number 41,000, would accept such an outcome peaceably. The Olso Accords stipulated a maximum force of 30,000 for the PA.
Ashton Trying to Reinvigorate Stalled Talks
Ashton arrived in Israel on Friday after visiting Jordan in what observers said was a bid to urge both sides to return to the negotiating table.
"We are well aware that September is fast approaching. With the events of the Arab Spring and following President [Barack] Obama's speech, it is more urgent than ever to engage in meaningful negotiations and move the Peace Process forward," Ashton's office said in a formal statement.
"The EU's position on this is clear, as set out in Council conclusions. That is the message [Ashton] passed on very clearly in her meeting with Minister Lieberman," the statement added.
Ashton is expected to meet with Prime Minister Binyamin Netanyahu on Sunday.