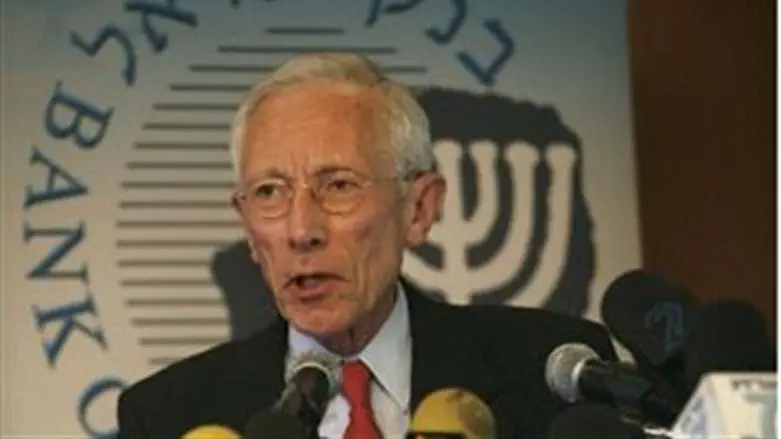 Stanley Fischer
Israel News photo: Flash 90
Bank of Israel Governor Stanley Fischer will not head the International Monetary Fund, after the IMF board disqualified him on Monday.
According to a report by Reuters, the IMF board shortlisted French Finance Minister Christine Lagarde and Mexican central bank chief Agustin Carstens for the IMF top job and disqualified Fischer due to the fact that his age – 67 – is two years beyond the ceiling set by the organization's bylaws.
Reuters cited two IMF officials who requested anonymity because the announcement had not yet been made official. The two told the news agency there was not enough support to change the fund's rules to allow Fischer to run.
Fischer officially announced his candidacy on Saturday after mulling the matter for nearly two weeks.
"A unique, unplanned and possibly once-in-a-lifetime opportunity has arisen to run for the head of the International Money Fund," Fischer told Prime Minister Binyamin Netanyahu and Finance Minister Yuval Steinitz, "which after consideration I decided I wanted to pursue."
Steinitz welcomed the news of Fischer's candidacy, saying: "On the one hand, we would love to see Stanley Fischer continue in the important role the Bank of Israel governor, but on the other hand, there is no doubt that the prestigious candidacy is a tribute to the State of Israel and its economy."
Fischer is considered an excellent Governor of the Bank of Israel, having gotten Israel through the 2008 recession. He was also selected last year by the British magazine EuroMoney as the number-one national bank governor in the world.
The job of IMF head is vacant following the resignation of former IMF Managing Director Dominique Strauss-Kahn, who was arrested last month in New York City and charged with sexually assaulting a chamber maid in a hotel.
Lagarde is seen as the leading candidate for the job, with even Carstens having said on Monday chances are "quite high" that she will win the job.
Carstens told reports he put his name forward in an effort to help emerging markets obtain the post in the future.
"I'm not fooling myself," Carstens was quoted by Bloomberg as saying. "It's like starting a soccer game with a 5-0 score."