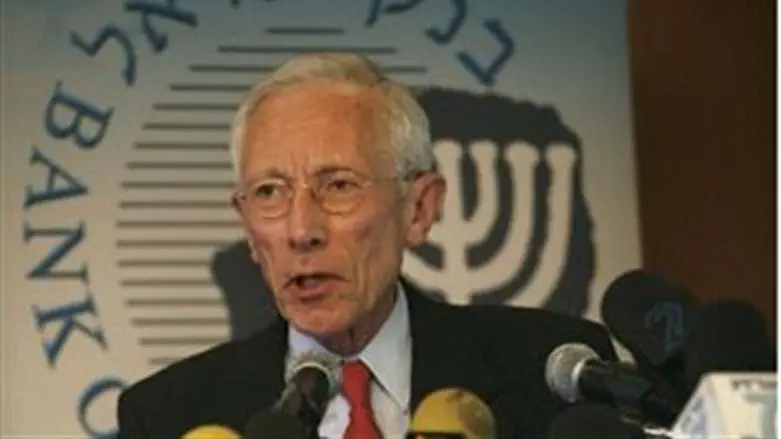 Stanley Fischer
Israel News photo: Flash 90
Bank of Israel Governor Stanley Fischer has officially announced his candidacy in the race to head the International Money Fund after mulling the matter for nearly two weeks.
Fischer, who served for seven years as the deputy chairman the fund, will still first need to get special approval to run due to his age – 67 – which is two years beyond the ceiling set by the organization's bylaws.
A second problem is his occupational, religious and ethnic background: as the Jewish head of Israel's central bank, it could be nigh impossible for Fischer to win the support of the numerous Arab and other Muslim nations who contribute to the fund.
A statement released Saturday night by the Bank of Israel said Fischer had informed Prime Minister Binyamin Netanyahu and Finance Minister Yuval Steinitz. "A unique, unplanned and possibly once-in-a-lifetime opportunity has arisen to run for the head of the International Money Fund," he said he told the prime minister, "which after consideration I decided I wanted to pursue."
The job is vacant following the resignation of former IMF Managing Director Dominique Strauss-Kahn, who was arrested last month in New York City and charged with sexually assaulting a chamber maid in a hotel.
Fischer is running as a dark horse, with the current favorite considered to be French Finance Minister Christine Lagarde. But Israel's candidate may have a chance due to indications of support beyond the region as well as his track record at the organization. Fischer also has solid ties with top officials in the Palestinian Authority banking system, according to the Wall Street Journal. He received a special vote of confidence from George Abed, former head of the Palestine Monetary Authority, who called him "the most qualified candidate" he had seen mentioned.
Lagarde, who enjoys wide support in Europe – with 35 percent of the IMF vote – may not be able to garner much beyond that region. The same may hold true for Mexican Central Bank Governor Agustin Carstens, a third candidate in the race.