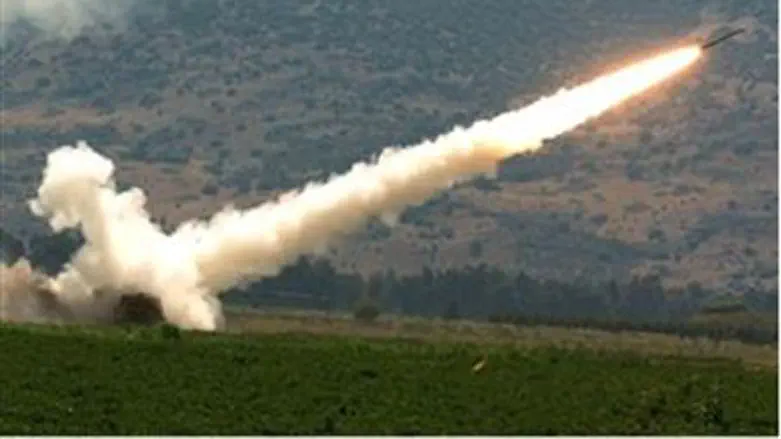 Katyusha rocket
Israel news photo: Flash 90
The rise of the Muslim Brotherhood and the decline of Egyptian army control in the Sinai have allowed Hamas to smuggle a rocket a day into Gaza, according to the Israeli-based Debka website, maintained largely by former IDF and security officers.
Hamas's stockpile now is 10,000 missiles, including weapons that can down aircraft and slice through tanks. The IDF has introduced a new Trophy protective system to ward off advanced rocket attacks.
Prime Minister Binyamin Netanyahu told the Knesset Foreign Affairs and Security Committee this week that the power vacuum is working to the advantage of Hamas, which is able smuggle weapons and terrorists into Gaza with more ease since the grassroots uprising that ousted Egyptian President Hosni Mubarak.
Foreign media have not reported the smuggling operations, largely because of the calm that Hamas has maintained since the massive bombardment in early April, when advanced missiles attacked seven Israeli towns and cities with 133 missiles.
Hamas backed off the attacks following the firing of a Russian-made anti-tank missile, smuggled from Iran, which hit a school bus, killing a teenager.
The terrorist organization ostensibly ceased fire because of threats that the IDF would stage a "mini Cast Lead" counter terrorist operation, but Debka claimed that the ceasefire was a result of an Egyptian-sponsored deal that Prime Minister Binyamin Netanyahu accepted before the Passover festival and Prime Minister Netanyahu's subsequent visit to Washington last week.
Egypt reputedly promised that Hamas and the rival Fatah faction, headed by Palestinian Authority Chairman Mahmoud Abbas, would reach a unity pact which was signed shortly later. Debka reported that Egypt also said it would take over Israel's responsibility to supply Gaza with fuel and other essentials. If it does so, it would contradict its statement last week that the re-opening of the Rafiah border would be only for the movement of people and not the transfer of goods and merchandise, which also could include weapons.
Egypt also reportedly told Israel it would resume intelligence operations inside Gaza, a move that could backfire on Israel if the Muslim Brotherhood and other terrorist groups continue to establish a power base in the Sinai, directly south of Gaza.
In addition, the report said that Egypt told Prime Minister Netanyahu that Hamas would halt all missile attacks and would resume negotiations for the release of kidnapped IDF soldier Gilad Shalit. However, a report circulating from government sources Wednesday claimed that Hamas has no idea where the terrorists are holding the soldier.
The reported deal did not mention the continued smuggling of weapons on a daily basis.