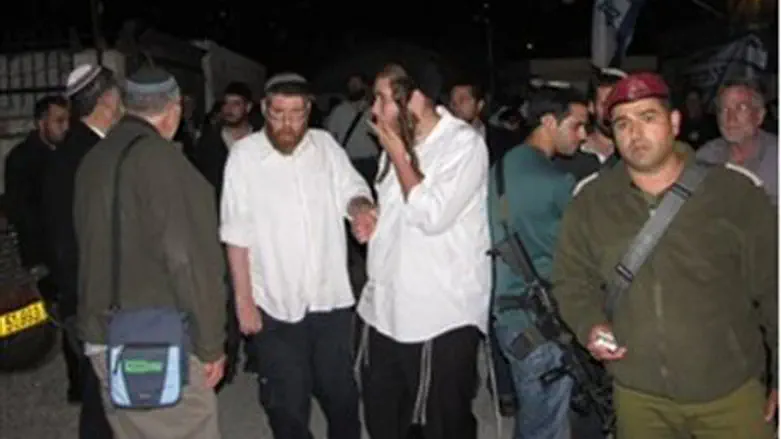 Livnat Family at Tomb of Joseph
Samaria Council
Palestinian Authority officers who opened fire on Jewish worshipers at Josephs' Tomb last month, killing one and wounding five, carried out the attack intentionally, IDF investigators told Chief of Staff Lt. Gen. Benny Gantz on Sunday.

"Although the inquiry finds that the firing at the worshipers was not coordinated in advance, it was concluded that the officers fired deliberately and with intention to harm the worshipers who arrived at Joseph's Tomb," military officials said. Gantz accepted their findings.

The Chief of Staff called on soldiers to prevent Israelis from entering Joseph's Tomb (Kever Yosef) or any other PA-controlled area if the visit was not coordinated with the IDF beforehand.

Israel recently recognized the man killed in the April shooting, Ben Yosef Livnat, as a victim of terrorism. The move involved recognizing the PA police as a de facto hostile organization.

Gantz was also given the findings of an investigation into the savage murder of five members of the Fogel family in Itamar earlier this year. Rabbi Udi Fogel, his wife Ruth and three of their six children were murdered by knife-wielding terrorists in March.

Gantz denounced the attack as "atrocious and inhumane." He concluded that the IDF bore some blame for the attackers' success, saying that the Central Command had recognized the general danger of an attack in Itamar but had failed to fully use all possible means of defense to keep terrorists from infiltrating the town.

He ordered the immediate implementation of findings regarding IDF failures, in order to improve security in the region. Gantz also expressed appreciation of the security forces that worked to apprehend the murderers.