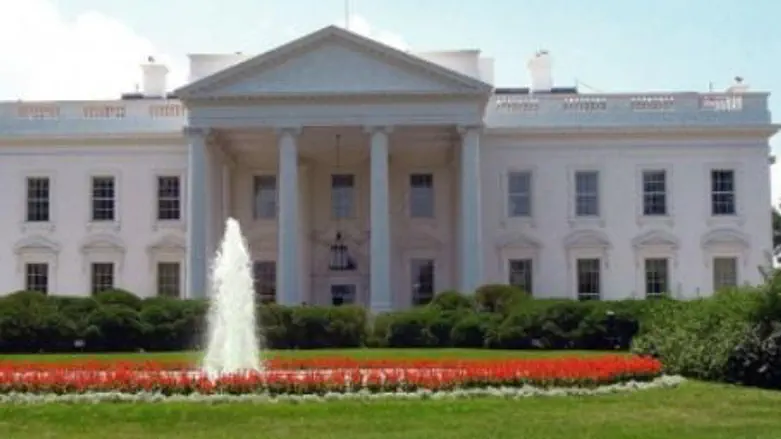 White House
Israel news photo: Flash 90
The White House, in a rare departure from "even-handed statements," said after Prime Minister Binyamin Netanyahu's speech to Congress Tuesday that the time has come for the Palestinian Authority "to give Israel confidence."
Resuming the political process for creating the Palestinian Authority as a state "is going to require a credible answer from the Palestinians about the role that Hamas is going to play in the new government, and whether a Palestinian partner and interlocutor can credibly say it recognizes Israel's right to exist and is not committed to engaging in terrorism," U.S. Deputy National Security Advisor for Strategic Communications Ben Rhodes told reporters.
"So in the first instance, there is some -- again, some step that needs to be taken on the Palestinian side, again, to give Israel that confidence coming into the negotiation," he added.
The United States government for years has demanded that Israel make "goodwill" concessions to the Palestinian Authority to boost the standing its leader, Chairman Mahmoud Abbas.
The reunification of Hamas with the government of Mahmoud Abbas, who heads the rival Fatah faction, apparently has finally crossed Washington's red lines. Israel previously has agreed to skip over once-considered basic Roadmap requirements that the PA first halt incitement to violence.
The Bush and Obama governments have gradually whittled away almost all of the commitments made by the Palestinian Authority in the Oslo Accords, and the "Roadmap to Peace" outlined by then-President George W. Bush. The PA already has violated the Oslo Accords in several ways, including creating – with American military training and aid – an army which officially is called a "police force" and whose numbers far surpass those allowed by the agreement. One of the main points in the Oslo Accords was settling differences by talks rather than violence The Oslo War put an end to that.
Contrary to the Roadmap, the United States has agreed to the Arab world's demand that Israel accept final borders before meeting for what it calls negotiations. U.S. President Barack Obama this week, while accepting the PA demands for borders based on the 1949-1967 Armistice lines, backtracked somewhat by saying that the same borders would be altered by "land swaps" due to large Jewish population centers in Judea and Samaria.
Rhodes did not state any criticism of Prime Minister Netanyahu's speech, which won almost unprecedented applause in Congress and widespread criticism from mainstream media pundits who apparently expected the Prime Minister to make further concessions. The winning style of Prime Minister Netanyahu, who clearly felt at ease in Congress, also ruffled the feathers of opposition politicians and mainstream media columnists.
The New York Times' Thomas Friedman wrote after Prime Minister Netanyahu's speech, "If Netanyahu actually put a credible, specific two-state peace map on the table — not just the same old vague promises about 'painful compromises' — he could get the Americans and Europeans to toss in anything Israel wanted, including the newest weapons, NATO membership, maybe even European Union membership."