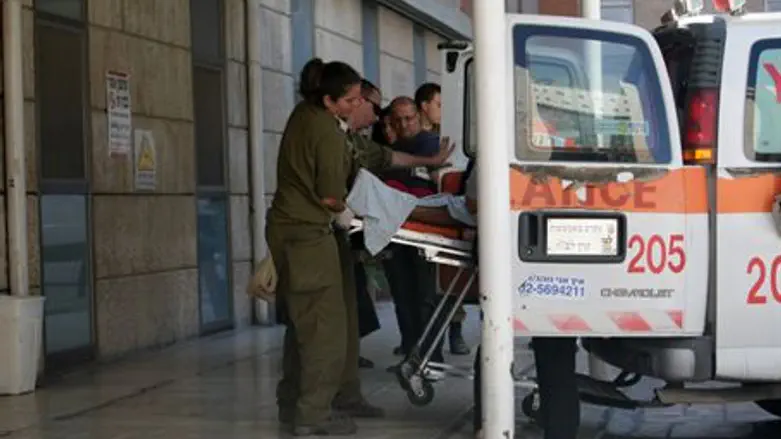 Wounded officer rushed to hospital
Israel news photo: Flash 90
All public hospitals with the exception of Ziv Medical Center in Tzfat are operating on a Shabbat schedule due to the return of the doctors' strike -- again.
Various hospitals will be opened -- and on Sabbath schedules -- for the rest of the week on a rolling schedule, as the rest of the country waits out a months-long stalemate over wages between the doctors' union and the Finance Ministry.
The two sides are scheduled to resume talks again Sunday (today) after a week-long hiatus. Meanwhile, the Israel Medical Association members are refusing to perform surgeries or conduct clinics.
Some of the physicians demonstrated Sunday at the Reading parking lot in northern Tel Aviv, where they lit bonfires in a take-off on the bonfires that filled the country for the Lag Ba'Omer holiday. They waved signs that read, "Doctors won't continue to put out the fires," alluding to their claim that the overworked and understaffed condition of Israeli doctors does not allow them to do more than that for patients.
Ziv has remained open due to concerns over who would treat those who might require care from Mount Meron, the mystical village where the Tannaic sage, Rabbi Shimon bar Yochai, is buried. A quarter of a million people had traveled to the area by Saturday night from all over the country , and from abroad, to celebrate the Lag B'Omer holiday at his grave site.
Likewise, intensive care units (ICUs), critical care wards, emergency rooms and delivery rooms will allegedly not be affected by the work action, according to the IMA, nor will IVF clinics, oncology, dialysis units and urgent treatment centers.
Here's what will be affected:
On Monday in Tel Aviv, outpatient clinics and hospital institutes south of Sourasky Medical Center Ichilov Hospital will be closed.
On Tuesday, hospitals north of Sheba Medical Center at Tel HaShomer Hospital will be closed.
Thus far, Wednesday will reportedly be a "regular" day, with normal medical operations.
On Thursday, the strike action will continue with all doctors exposed to radiation invited to gather for a "radiation workers'" conference.