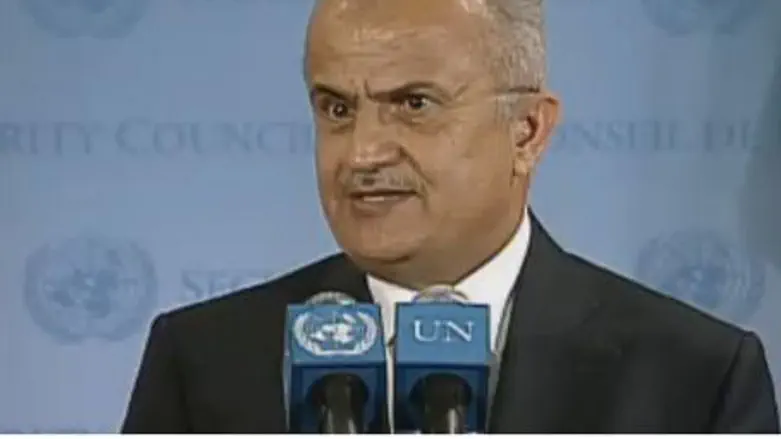 Abdul Ilah al-Khatib
UN Multimedia
UN special envoy Abdul Ilah al-Khatib visited Tripoli, Libya on Monday in hopes of negotiating a ceasefire between government and rebel forces, CNN reports.
The talks included Libyan Prime Minister Baghdadi al-Mahmoudi and Foreign Minister Suleiman al-Shehoumi, the UN said. Qaddafi, who has been in hiding, did not attend the meeting. According to Libyan Deputy Foreign Minister Khalid Kaim, Libyan officials requested UN observers on the ground and gave al-Khatib letters to share with the UN Security Council describing "provocations" by NATO. 
Three NATO powers – Britain, France, and the United States – are permanent members of the Security Council holding a "veto."
NATO Keeps Pressure On
Meanwhile, Libyan state television reported a NATO airstrike on the western city of Zuwara, near the Tunisian border, where thousands of refugees have been fleeing Libya amid the conflict. Tunisia's state news agency TAP also reported an airstrike on government troops and radar installations near the border.
NATO did not immediately confirm the attack. Allied warplanes have been bombing Libya since March 31 under a UN resolution authorizing "all necessary measures" to protect civilians during the uprising against Qaddafi. Rebel fighters demand freedom and an end to Qaddafi's nearly 42-year rule. They now control most of eastern Libya and have set up a provisional government headquartered in Benghazi.
ICC Sets Sights on Qaddafi
An arrest warrant from the International Criminal Court alleging crimes against humanity has been issued for Libyan strongman Moamarr Qaddafi. ICC chief prosecutor Luis Moreno-Ocampo is expected to announce Monday that he's seeking the warrants.
But Kaim dismissed possible ICC action saying Libya is not a signatory of the Rome Statute [which established the ICC -ed.] and that Qaddafi will "just ignore it."
Moreno-Ocampo had said in early March he planned to investigate Qaddafi. It is the first time the ICC has launched a probe while a conflict is still unfolding. The allegations include the killings of unarmed protesters by security forces and the use of displacement, illegal detentions, and airstrikes against civilians.
A spokesman for the rebel's provisional government declined to comment on the ICC action, but in Benghazi, hundreds of protesters marched in the streets Saturday demanding justice. "We want Gadhafi to be arrested and then possibly executed," said Noha Salem, a protester who marched near the old section of Benghazi.
Qaddafi: "You Cannot Kill Me"
The ICC's actions come after speculation last week about whether the combative Qaddafi had been injured in NATO airstrikes on his compound. However, Qaddafi was heard gloating on Libyan state-run television Friday assuring his people he is alive and in a place where "you cannot kill me."
Qaddafi's boast comes after Western leaders increase calls to assassinate him.
Senator Lindsey Graham, a Republican member of the Senate Armed Services committee, said that the quickest way to end the emerging stalemate was to "cut the head of the snake off". "The people around Qaddafi need to wake up every day wondering, 'Will this be my last?'," Graham said.
British Foreign Secretary William Hague also on Sunday refused to rule out using remote-controlled American drones to assassinate Qaddafi. "Who and what is a legitimate target depends on their behavior," Hague said.