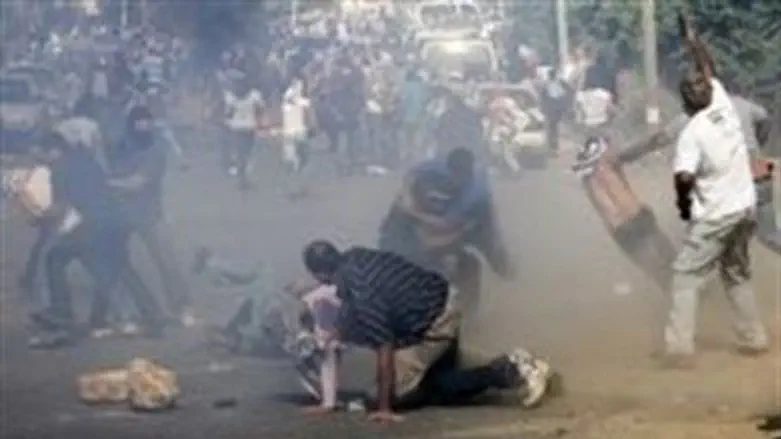 Nakba riots
Israel news photo: Flash 90
Arab rioters attempted on Saturday to burst into several Jewish homes built in the Moscowitz housing project in eastern Jerusalem, hurling rocks and damaging Jewish property.
The rioters were protesting the death of 17-year-old Milad Said Ayash, who Saturday morning of wounds sustained Friday after being shot during a Nakba Day riot in eastern Jerusalem.
Media reported that an Israeli security officer shot the teen in response to a perceived threat to his own life.
Jewish residents vehemently rejected the report and noted that the boy's family refused to allow officials to verify the report through an autopsy to determine the truth.
Police spokesman Mickey Rosenfeld confirmed that police asked to perform an autopsy on Ayash to aid in their investigation of the incident, but that the family refused. Jerusalem police arrested 34 Arabs on Friday for participation in riots and hurling firebombs.
Hundreds of Arabs began rioting during the funeral for the teen on Saturday morning as they wound their way toward the burial ground near Jerusalem's Old City.
Arabs began hurling rocks at police and at Jewish residents of the Moscowitz housing project in the Muslim Quarter. Police used tear gas to try to break up the riot, which continued as the mob made its way to the Al Aqsa Mosque in the Old City. At the mosque, located on the Temple Mount – the holiest site in Judaism – young men draped PA flags on the roof.
Nakba Day unrest continued into the later hours of the day and on into the evening. Palestinian Authority Arabs also hurled firebombs and rocks at Border Police posts near Rachel's Tomb on Saturday evening. No one was injured and no damage was reported.
Rioting continued Saturday night in eastern Jerusalem, where Arabs hurled rocks at police. Two officers who were injured were treated at the scene. Three Arabs were arrested for throwing rocks.
Arabs also hurled stones at police in Issawiya. One person was arrested.