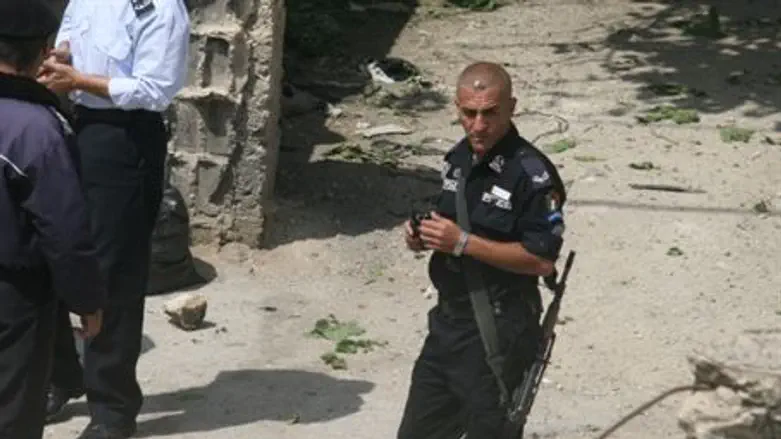 Armed Arab policeman - seen from Hadassah Hou
David Wilder
"Nakba Day" events were off to an early start in Hevron Friday after the Muslim prayers, and tension in the ancient city mounted as the Sabbath approached. 
Local Jews reported that armed Arabs from the Palestinian Authority's paramilitary police force could be seen on Shalala Street, 100 meters from Hadassah House - in violation of the signed agreements between Israel and the PA. 
An Arab procession could be heard nearing the Jewish community at Hadassah House around 3:00 P.M. and "very large" IDF forces streamed into the area, according to David Wilder, a Jewish community leader. 
The IDF did not appear to have a problem with the PA police presence near the Jewish concentration. Wilder said that the IDF preferred to allow the PA's paramilitary ("police") force to handle the crowd rather than engage the Arabs itself.
Local Jews are more worried about the PA police, however, than about the procession they came to stop.
"The PA has signed a pact with Hamas," Wilder told Arutz Sheva, "and now they are letting terrorists with guns mill about behind Beit Hadassah. I am not worried about the masses armed with rocks, but terrorists with guns are a different matter."
He reported seeing several PA police vehicles and a group of about 15 policemen who advanced on foot.  

Photos by David Wilder: