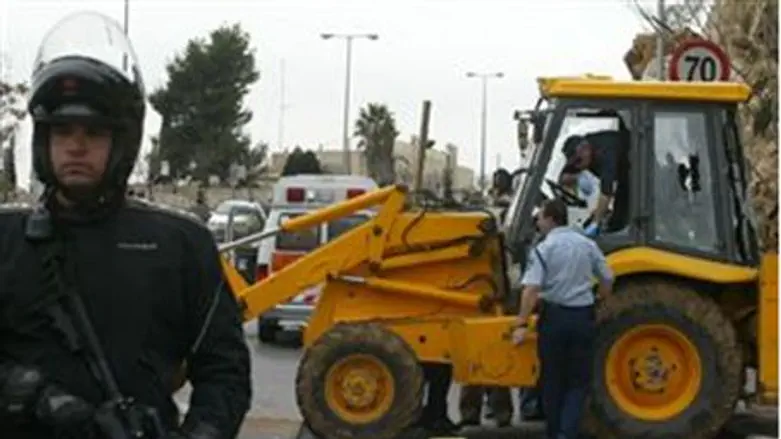 Tractor attack (archives)
Israel news photo: Flash 90
A Palestinian Authority Arab tractor driver, who was protected by the IDF to plow land at the Gilad Farm in Samaria, tried to run down a Jew Wednesday morning. He was arrested before he could cause any injuries.
The soldiers had escorted several Arabs to the area until an argument broke out between the Arabs and residents of Gilad Farm, a frequent target of terrorists. The government also has previously targeted the Jewish community for several demolitions, often in the middle of the night.
An IDF spokeswoman told Israel National News that the soldiers arrested one other Arab and also a Jew, who allegedly threw a rock at the Arabs during the incident.
Gilad Farm residents said that the land where the Arabs tried to plow is part of their community.
In an unrelated incident, a Haifa court sentenced an Arab from the Israeli city of Umm-el-Fahm to six years in jail for working with the Hamas terrorist organization and "aiding the enemy." He has a record of previous criminal and security offenses.
The city, located southeast of Haifa and on the main highway connecting the Mediterranean coast with the Jordan Valley, is a hotbed of Arab nationalism and hosts the radical Islamic Movement's northern branch, headed by Sheikh Raad Salah.