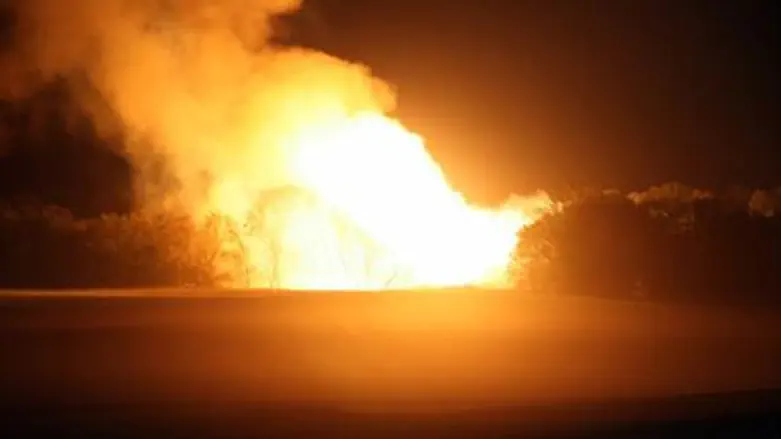 Gas pipeline explosion (illustrative)
Israel news photo
Terrorists, described in foreign media as "armed gangs," attacked the Egyptian-Israeli gas pipeline early Wednesday, halting supplies to Israel.
It was at least the third attack on the pipeline this year. An attack on February 6 cut supplies to Jordan and Israel. 
Wednesday morning's blast, near El-Arish and approximately 30 miles south of the Israeli border, forced the evacuation of nearby residents from their homes.
The gas was shut off from Port Said to prevent continuing fires from the gas that had escaped from the pipeline after the attack. However, gas in the pipeline still is flowing to Israel for a limited amount of time.
Exactly a month ago, another attack on the pipeline near El Arish failed when the explosives did not detonate.
Egyptian officials have not identified the terrorists who struck Wednesday morning, but Bedouins have taken de facto control over large parts of the northern Sinai since the uprising that ousted Hosni Mubarak as Egyptian president.
The latest attack comes on the heels of a new poll showing that a majority of Egyptians want to cancel the 1979 peace treaty that recognized Israel and initiated diplomatic relations with the Jewish State.
Egyptian officials earlier this week also announced that Mubarak and former aides are under investigation for alleged corruption concerning the 20-year agreement to export gas to Israel.