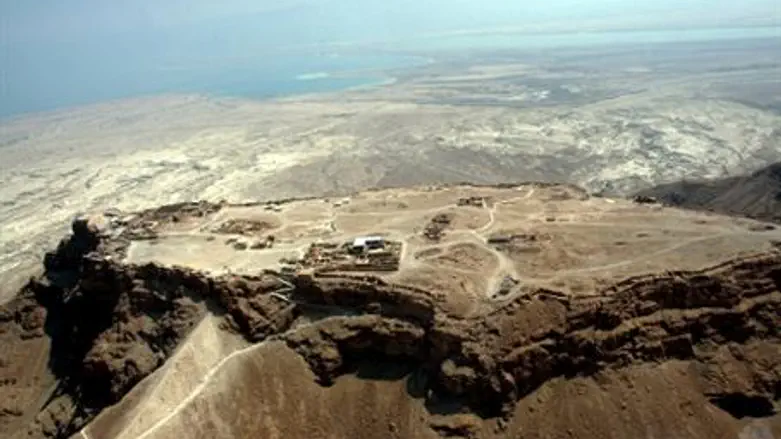 Masada
Israel news photo: Flash 90
The ancient Masada Fortress, overlooking the Dead Sea, was the most pay-to-enter popular tourist site last year, topping the Jerusalem Biblical Zoo and the Safari Park in Ramat Gan, adjacent to Tel Aviv.
The most popular tourist site, including those where entry is free, continues to be the Western Wall (Kotel) in Jerusalem.
Dun & Bradstreet in Israel reported that more than 750,000 people paid to enter Masada last year, knocking out of first place the Jerusalem Zoo, where nearly 720,000 people entered.
The number three place was taken by the Caesarea Antiquities National Park, with slightly less than 700,000 visitors, followed by the Hermon National Park (Banias), which climbed from ninth place in 2009 to fourth place last year with  663,000 visitors.
Rounding out the top 10 were the Ramat Gan Safari Park, the Ein Gedi Nature Reserve, the Hamat Gader hot springs, the Underwater Observatory in Eilat, the Qumran Caves at the Dead Sea and the Yamit 2000 water park in Holon, adjacent to Tel Aviv.
Tourism in Israel reached an all-time high in 2010 , with 3.5 million visitors, more than two-thirds of them identifying themselves as Christians.
As in previous years, the United States continued to lead with 625,000 visitors arriving this year, representing 19 percent of all incoming tourism. This was an increase of 14 percent over last year, and a slight increase over the tourism figures for 2008.
Tourism from Russia followed in second place with 560,000 visitors, comprising 15 percent of all incoming tourism – 40 percent more than last year. About 240,000 of these – 40 percent – were day visitors.
French tourists comprised the third largest category, totaling about 285,000 visitors, 9 percent more than in 2009 and 7 percent more than in 2008.