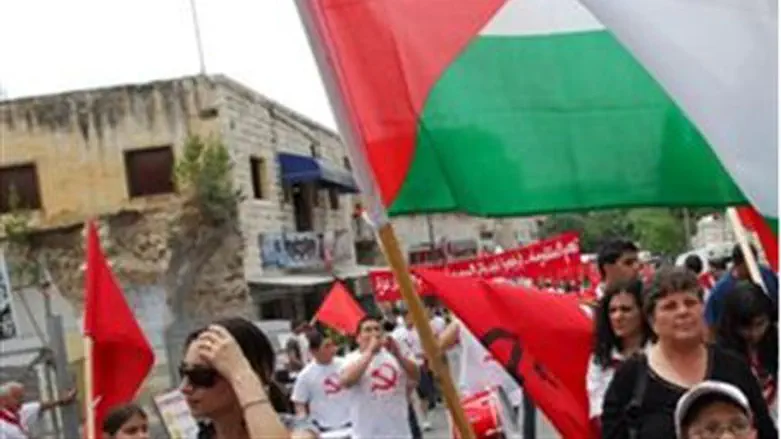 Palestinian Authority flag; hammer and sickle
Israel news photo: Flash 90
A group of right-wing activists disrupted on Thursday afternoon a ceremony which took place in Tel Aviv, during which radical leftists declared the "establishment" of a Palestinian state. A clash ensued and police on scene had to separate the sides.
Several dozen,including radical left professors and several Israel Prize winners, such as  former Education Minister Shulamit Aloni, Sefi Rechelvsky, Prof. Yehuda Bauer, and Prof. Ze'ev Shternhal, took part in the ceremony, which was held on Rothschild Blvd. in Tel Aviv, near the building in which Israel's first Prime Minister, David Ben-Gurion, declared Israel's independence in May of 1948.
The participants invited the public to join them in signing a proclamation that begins with the words: "In the Land of Israel arose the Jewish Nation, where its character was formed. In Palestine arose the Palestinian nation, where its character was formed."
In response to the leftist ceremony, MK Dr. Michael Ben-Ari (National Union) said: "If there was a need to prove that the left in Israel has befriended our worst enemy, these people whose hatred of Israel guides them give us just that. These are mentally ill people who hug the murderers of children and from whom the Israel Prize should be taken."
MK Tzipi Hotovely (Likud) said that "the initiative to declare a Palestinian state shows the isolation of the far-left intellectuals from the down to earth people. Irresponsible statements of this kind are the source of international pressure on Israel. With these things they are bringing a national disaster on Israel and are not deserving of a prize that bears its name. The hypocrite left has not yet understood that to the Palestinians, there is no difference between the  'occupation' of 1948 and the 'occupation' of 1967".
Deputy Foreign Minister, Danny Ayalon, also responded to the ceremony and said that "such measures only ... create false hopes among the Palestinians that they could establish a state with one-sided steps and without negotiations with Israel. It would have been better if the protesters would convince the Palestinian leaders to return to the negotiating table."
Upon learning of the clashes between right and left during the ceremony, Defense Minister Ehud Barak said: "I call on all of us to show responsibility. The state is facing fateful decisions and we want a strong and secure Israel."
Barak added that "there are controversies. There have always been and always will be controversies, but there need to be solved using a moderate and responsible public discourse, without using the word betrayal and without violence. There are difficult challenges ahead, but we must remember that we are all brothers at the end of the day."