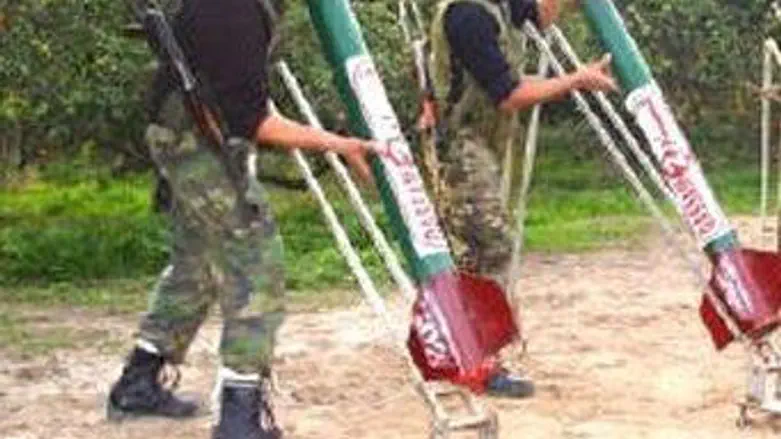 Kassam
Israel news photo: Flash 90
Thousands of residents of southern Israel spent Shabbat in bomb shelters, as Hamas terrorists from Gaza continued firing rockets at Israeli targets in the Negev. Since Thursday, Arab terrorists have fired over 100 mortar shells and Kassam rockets at Israeli targets, with fifty fired since early Saturday.
The rockets hit not only areas near the border, but areas further inside Israel, including the Ashkelon area. Four Grad-style Katyusha rockets hit areas near the city, but there were no injuries or damage reported. However, several people were hospitalized for shock, and as of Saturday night, three were still in the hospital.
Damage was reported in several towns, and major damage was reported in a kibbutz in the Sha'ar Hanegev Regional Council, where a water pipe was destroyed. Residents said that they felt that the days of Operation Cast Lead, when Hamas fired hundreds of rockets at Israeli civilians, had returned.
Other cities further inside Israel were also hit, with Ofakim absorbing hits from three Grad rockets. One rocket hit very close to a school, and city officials said that there would have been many injuries had the rocket hit when classes were in session.
The Iron Dome system registered a number of successes, intercepting several rockets aimed for Be'ersheva, Ofakim and Be'ersheva. The system has intercepted eight rockets since Thursday.
Meanwhile, Israel has struck back hard at Hamas terrorist targets in Gaza. Overnight Friday, IDF planes targeted several terror activity sites in Gaza, with precise targeting of several terror gangs who were in the midst of preparing to fire more rockets at Israel. The IDF said that fifteen terrorists had been eliminated. Among them was a senior Hamas operative in the southern Gaza Strip, Tayser Abu Snima, along with two additional Hamas operatives. Snima held several major roles in the military wing of Hamas and was involved in many terrorist attacks against Israeli civilians and IDF soldiers. Most recently, he was in charge of executing a terror attack from Sinai, firing rockets at the city of Eilat. In addition, the IDF said, Snima was also directly involved in the kidnapping of IDF soldier Gilad Shalit.
Israeli officials said that Hamas has asked for a ceasefire several times, and the Hamas website said that the terror group had declared a unilateral ceasefire on Thursday night. The terror group blamed the subsequent rockets on outside terror groups, saying that they were responding to Israeli attacks.
Meanwhile, the youth injured in the rocket attack on a school bus near Ashkelon on Thursday, Daniel Viflic, remained in critical condition. Doctors are continuing to work to save his life, and said that the next 24 hours would be "crucial." The public was asked to continued to pray for Rafael Daniel Aryeh ben Tamar.