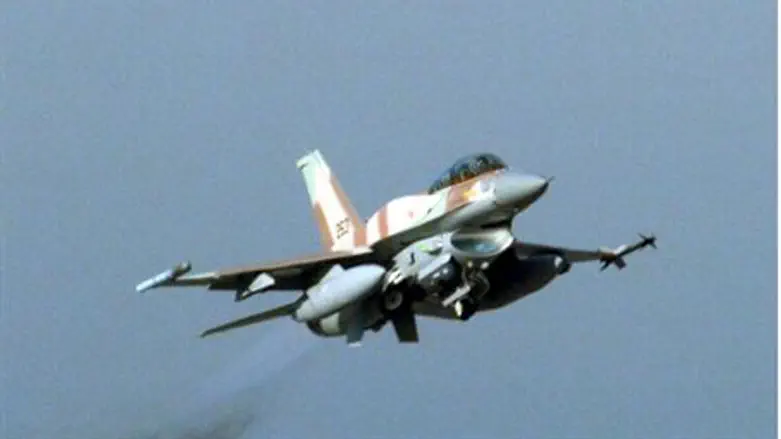 IAF F-16 fighter jet
Israel news photo: IDF
The Israeli Air Force attacked on Thursday evening nine terror targets throughout the Gaza region. As well, three tunnels that were used to smuggle terrorists and weapons in Gaza were bombed by the IAF overnight on Thursday.
Earlier on Thursday, aircraft and armored forces attacked two terrorist groups, one in northern Gaza and one in southern Gaza, who had been involved in high-trajectory firing of rockets and mortar shells from Gaza into southern Israel.
The IDF Spokesperson reported that in all cases a direct hit on the targets was identified.
The IAF attacks came in response to the terror attack on Thursday afternoon, in which terrorists fired at a school bus traveling in southern Israel near the Nahal Oz crossing.
Police initially identified the weapon fired at the bus as a medium anti-tank missile, but other reports indicated that it may have been a mortar attack. As a result of the attack, a 16-year-old boy was critically wounded. The driver of the bus sustained shrapnel wounds in the leg.
The attack on the school bus was followed by a barrage of mortar shells and rockets at the area. One exploded next to a house in the Eshkol region. No one was physically injured although the house was badly damaged. All in all, at least 40 projectiles had been fired into Israeli territory by late Thursday evening.
Also on Thursday, the new Iron Dome anti-rocket system intercepted an enemy missile in mid-air and scored its first operational success. The missile was a Grad-type rocket fired from Gaza towards Ashkelon.
Witnesses said they saw the rocket's plume after it exploded in mid-air. IDF sources confirmed the success.
Iron Dome was deployed a few weeks ago following an escalation in rocket and mortar firing from Gaza into Israel. The Defense Ministry has touted Iron Dome as a solution to terrorist attacks from Gaza, as was proven on Thursday, but the system is still under evaluation.
The IDF spokesman issued a statement on Thursday evening which said that "the IDF will not tolerate any attempt to harm Israeli citizens and will continue to act with determination and strength against any party who carries out terror attacks against Israel."
The statement added that "the terrorist organization Hamas is the one who bears responsibility for the escalation in the attacks."
Following the IDF's response, the terror organizations in Gaza announced a ceasefire and said they will not fire anymore rockets towards Israel. The groups claimed that the decision was made as a result of international pressure.