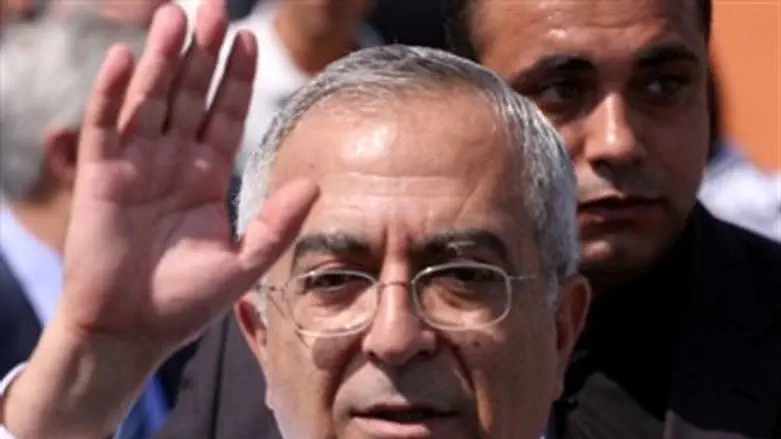 PA Prime Minister Fayyad
Israel news photo: Flash 90
The International Monetary Fund gave the Palestinian Authority a boost this week in a report that said the PA is capable of managing the economy of an independent nation.
The IMF made the claim in a report issued Wednesday, to be presented next week at a donors' conference in Brussels. The World Bank is expected to report similar findings at the same conference.
The PA, said the IMF, is "now able to conduct the sound economic policies expected of a future well-functioning Palestinian state, given its solid track record in reforms and institution-building in the public finance and financial areas."
The World Bank agreed. In its report, set for release Thursday, the international financial institution said, "If the Palestinian Authority maintains its performance in institution-building and delivery of public services, it is well positioned for the establishment of a state at any point in the near future."
Both the IMF and World Bank expressed concerns about the PA's overdependence on foreign aid, however. They also noted that the PA's current GDP growth rate of 9 percent (2010) was unlikely to continue without further easing of security restrictions by Israel in Judea, Samaria and Gaza.
Each time Israel has eased security measures, lethal Arab terrorist attacks have inevitably followed. Most recently, after a number of roadblocks and checkpoints were removed, five members of a family in the Samaria Jewish community of Itamar -- including a baby -- were murdered as they slept.
PA Prime Minister Salam Fayyad told The New York Times on Tuesday the PA government was "in the home stretch" of preparations for "our rendezvous with freedom." He made the remark while attending a ceremony in Ramallah to mark the opening of a venture capital fund that has raised more than $28 million for PA-controlled areas of Judea and Samaria. Fayyad worked for years for the International Monetary Fund.