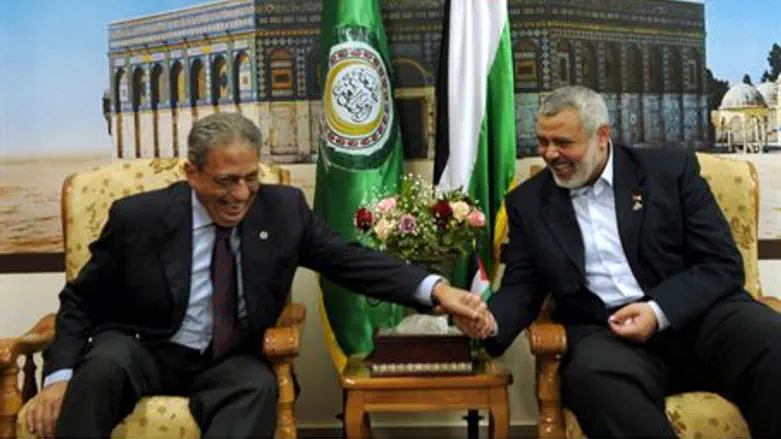 PA Chairman Abbas
Israel news photo: Flash 90
Palestinian Media Watch (PMW), a media watchdog group that monitors the media in the Palestinian Authority, reported once again on Sunday about the duplicity of the Palestinian Authority leadership.
Once such incident in the report revolves around the naming of a square in Ramallah after Dalal Mughrabi, the female terrorist who led the Coastal Road Massacre in March of 1978 which ended with 37 Israelis dead, including 13 children.
Abbas condemns: During an interview with Israel's Channel 2 News last week, Palestinian Authority Chairman Mahmoud Abbas condemned the naming of a square after Mughrabi:
Abbas: "If there's incitement on my part, where is it?"
Israeli TV host: "On TV."
Abbas: "No. I say, in Israel there's also incitement."
Host: "I'll give you another example. When the Israeli public sees the PA glorifies terrorists, calling a square for [terrorist] Dalal Mughrabi, a street for [terrorist] Ayyash."
Abbas: "These [namings] are not by the PA but by the municipalities. The municipalities have a degree of independence."
Host: "Are you personally against those commemorations?"
Abbas: "There's no doubt, I'm against it... Whatever we must do, you must do as well, but I condemn this action [naming square for Mughrabi]."
Abbas commends: The above comments are the complete opposite of comments made by Abbas during an interview he gave just over a year ago to the Arabic language, PA-based Al-Hayat Al-Jadida newspaper.
"They [Israel] say about me that I carry out terrorist activities. What are those terrorist activities? That I search for those who sell land in Jerusalem and chase them. Of course I chase them, and I shall continue to do so. Is that a crime? [Israel says,] 'Does he [Abbas] not know that they [the PA] named a square after Dalal Mughrabi and he [Abbas] personally went [to the ceremony]?' - Of course I did not go myself, but I do not deny [the naming].
Of course we want to name a square after her. Okay, what about [murdered Israeli cabinet minister Rehavam] Zeevi? They [Israelis] named a road after him [in the Jordan Valley], near brother Saeb [Erekat, i.e, the chief Fatah negotiator], and so on. What is it [that Israel wants]? That we renounce our history? How? We... carried out a military activity; can I then later renounce all that we have done? No, I don't renounce it." [Emphasis added.]
The PMW report also notes how Abbas personally glorified Mughrabi in the past, funded a computer center named after her, and sponsored a "birthday" celebration on what would have been her 50th birthday, with senior Fatah officials present and including a live performance of songs and poems.
Mughrabi is not the only terrorist glorified by the PA and specifically by Abbas, notes the report. Abbas took part in the official red carpet military funeral of Amin Al-Hindi who was one of the senior planners of the murder of 11 Israeli athletes in the Munich Olympics in 1972. Another planner of the Munich Olympics attack, Muhammad Daoud Oudeh, was referred to by Abbas as "a wonderful brother, companion, tough and stubborn, relentless fighter."
Abbas' Prime Minister also guilty of double talk
A separate reported released by PMW showed that PA Prime Minster Salam Fayyad is no different when it comes to double talk. Fayyad, who on Wednesday afternoon condemned as "terror" the bomb at a Jerusalem bus stop, had, the same morning, honored PA women terrorists, including two who drove suicide bombers to terror attacks killing five.
Fayyad commends: "I will not fail to mention with honor and admiration the resolve of the female prisoners, the fighters, and of all the prisoners of freedom who are imprisoned in the Israeli prisons, experiencing indescribable suffering," Fayyad was quoted by Arabic language Al-Hayat Al-Jadida as saying. "This requires that all of us intensify the effort to ensure their liberation from the occupation's chains and from the abuse of its [Israel's] executioners." Among those terrorists he honored was also one who placed a bomb in a bus station, an act identical to the one he condemned just a few hours later.
The same newspaper, as well as Israel's media, also reported Fayyad's condemnation of the terror attack in Jerusalem:
Fayyad condemns: "Prime Minister Fayyad condemned 'harshly' the explosion which took place next to the Jerusalem central bus station. He emphasized that such actions bring 'catastrophes' upon the Palestinian people. In an announcement, Fayyad said, 'I condemn this terror operation in the harshest terms, no matter who stands behind it.' Fayyad wished the injured a speedy recovery.
He said, 'It is shameful that after all the catastrophes which such actions have brought upon our people, and the heavy damage which they have brought to our struggle and to the justice of our cause, some Palestinian party still insists on renewing these shameful operations and scenes, under hollow slogans which our people no longer believe, and which stand in complete contrast to its legitimate attempt to earn freedom through peaceful means and through its determination to stand resolute and to remain upon its land.'"
Confusing? Only if you understand Arabic or read the Palestine Media Watch  translations. If you stick only to what the PA leaders say for Israeli and world consumption, you will feel better.