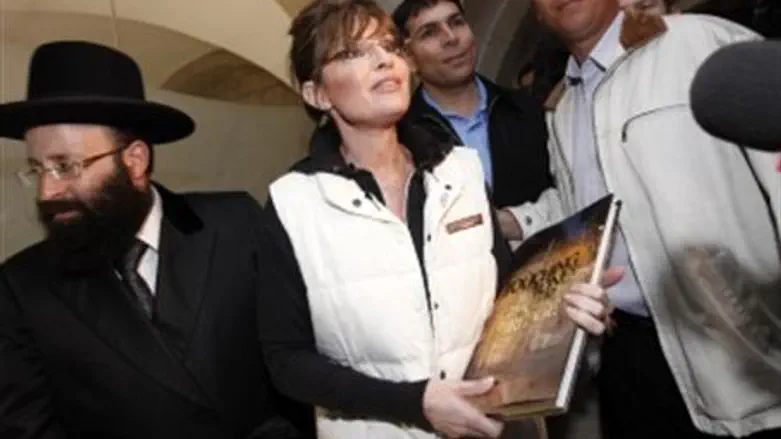 Palin with Kotel Rabbi Rabinovich and MK Dano
Israel news photo: Flash 90
Former Alaska governor Sarah Palin arrived in Israel Sunday afternoon for her first visit to the Holy Land. Palin is scheduled to meet Prime  Minister Binyamin Netanyahu and other senior ministers.
MK Danny Danon (Likud) and Kotel Rabbi Shmuel Rabinovich accompanied Palin on a tour of the Kotel and Kotel Tunnels. 
Palin and Danon discussed the United States' policy on Middle East diplomacy and their expectations from Netanyahu's upcoming policy speech, in which he may reveal new plans for talks with the Palestinian Authority. 
Danon asked Palin to try and convince world audiences that the blame for lack of progress on a peace agreement should be shifted to the PA's Mahmoud Abbas. "A leadership that churns out people who are capable of slitting children's throats as they sleep is the one that needs to prove that peace can be made with it. [U.S. President Barack] Obama's pressure on Netanyahu hurts Israel and its citizens," he added.