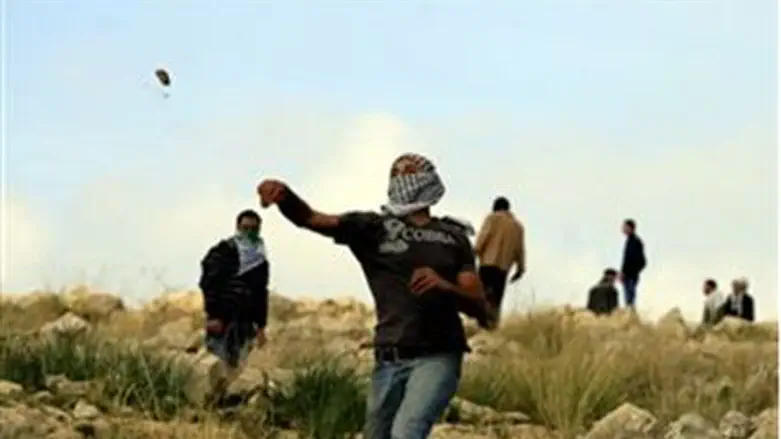 PA Arab rock thrower
Israel news photo: Flash 90
Palestinian Authority terrorists carried out a shooting attack Thursday in the Jordan Valley. Terrorists targeted an Israeli bus as it passed near the Gitit checkpoint west of Maaleh Efraim.

The bus was damaged, but nobody was hurt in the attack.

In a separate incident, IDF soldiers caught two PA terrorists at the Tzofim checkpoint. The two were searched, revealing that both were carrying bombs and knives. The two were arrested, and the bombs were destroyed in a controlled explosion.

A second bus was attacked near El Aroub. A group of PA Arab men threw rocks at the bus, causing damage but no injuries. Earlier in the week a female passenger on a bus was wounded in a similar attack, and required hospital care.

PA terrorists threw rocks and firebombs at soldiers as well, targeting a Border Police position at Rachel's Tomb (Kever Rachel), outside Bethlehem, just minutes from Jerusalem. The police were unhurt.

Rock attacks were reported in the Beit Umar region near Hevron as well.