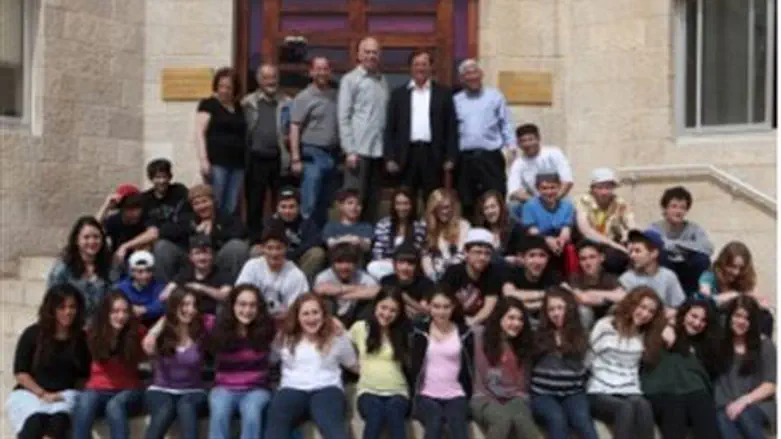 US 8th graders at JNF Headquarters
Israel news photo: courtesy of Yossi Zamir
Thirty eight-graders returned to the United States Sunday after donating to the Jewish National Fund (JNF) $18,000 they raised following the Carmel fire disaster last year.
The students from the modern orthodox Bi-Cultural School in Stamford, Connecticut, concluded four weeks of learning and touring in Israel. After the Carmel tragedy, they decided to raise money though raffles, auctions and other fund-raising activities.
Stanley Davids, a rabbi in the Reform movement and a member of the Executive of the World Zionist Organization, told Israel National News that he arranged a last-minute ceremony for the donation Sunday morning with Efi Stenzler, World Chairman of theJewish National Fund (JNF).
Stenzler explained to the students that the JNF is involved in Israel far beyond the traditional tree-planting for which it is widely known. He also explained to the students that part of the destroyed Carmel forest will be replanted by nature's own rehabilitation process.
During their visit to Israel, the children visited the Carmel forest for a hands-on experience at the site of the devastation, where 44 people were killed and five million trees were destroyed. They also visited the Western Wall and the ancient Masada fortress overlooking the Dead Sea before leaving the country.
Davids had a special enjoyment during the ceremony – one of his grandchildren was among the students who had raised the money, which the JNF gratefully accepted.
The Bi-Cultural school teaches through a "foundation in secular studies coupled with classical and modern Jewish texts stressing moral and religious values" and accepts Jewish children from all religious streams.