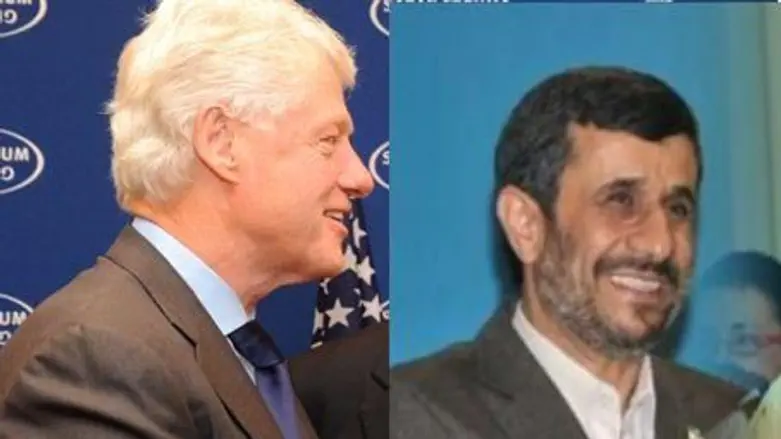 Bill Clinton and Ahamdinejad
Israel news photo montage
When Bill Clinton was president, he envisioned a 'New Middle East" based on the failed Oslo Accords, which blew up in 2000 with the Second Intifada, also known as the Oslo War. Iran now says a new Middle East indeed is on the way, but one with the Islamic Republic as its axis.
"Iran's pivotal role in the new Middle East is undeniable," Iranian Revolutionary Guards' Politburo Chief General Yadollah Javani said on Monday, addressing a conference in the Western Iranian city of Kermanshah and quoted by the semi-official Fars News Agency.
"Today the Islamic Revolution of the Iranian nation enjoys such a power, honor and respect in the world that all nations and governments wish to have such a ruling system," he added.
Javani said that recent Arab uprisings in Muslim countries herald the spread of Iran's Islamic Revolution. His comments came one day before massive Iranian forces battled protesters in an effort to squash opposition rallies.
In Madrid, visiting President Shimon Peres accused Iran not only of fostering terror in the Middle East but also of duplicating its efforts in Latin America.
He told the Spanish parliament, "Iran nourishes Hizbullah in Lebanon and Hamas in Gaza with terrorism and weapons, and it is creating visible and hidden terrorist cells in other countries, in the Middle East and even Latin America."
President Peres also said he was "delighted" at the changes in the Arab world as a result of recent uprisings, predicting that they will bring about more democracy. Last week, he told Spanish officials that he expects Iranians to topple the regime in Tehran.
However, the regime of Iranian President Mahmoud Ahmadinejad has brutally squelched the protest movement, which began two years ago after his disputed re-election. The tight alliance between military forces, Ahmadinejad and supreme Muslim clerics has given them the upper hand against the opposition.
Having so far survived international sanctions, Iran continues to deepen its ties with Syria with the aim of extending its influence in the entire Muslim world.
It recently sent two warships through the Suez Canal for the first time since the 1979 revolution against the American-backed Shah.
"The presence of the Iranian vessels in Syria is an indication of the Islamic Republic of Iran's strength and the enemies' failure," Syrian Defense Minister Lt. General Ali Habib said in a meeting with visiting Iran's Navy Commander Rear Admiral Habibollah Sayyari, according to Fars.
The ships are currently docked in Syria for training, and one of them is armed with torpedoes and anti-ship missiles, the news agency added.
Iran and Syria have signed an agreement enabling the two countries' naval forces to boost their mutual cooperation.
"Definitely, the good ties between the two friendly and brotherly countries of Iran and Syria and their use of each other's experiences would strengthen the two states, specially in naval fields," stated Sayyari.