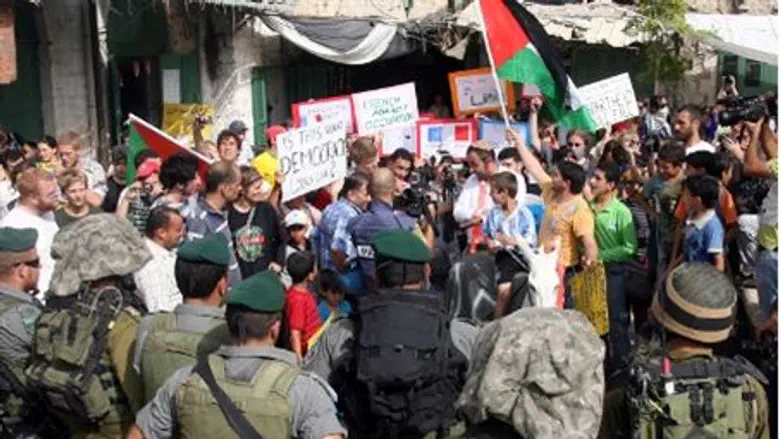 Arab rally in Hevron (file)
Israel news photo: Flash 90
Palestinian Authority Arabs in Hevron are demanding full access to the city's only majority-Jewish street, while Jews remain confined to a mere 3% of the city.

An estimated 300 PA Arabs rioted Friday, calling for unlimited entry to King David Street, which the PA has dubbed Shuhada Street. Rioters threw stones at soldiers and police officers, who responded with tear gas; five Israeli policemen and four PA rioters were injured.

PA demonstrators shouted "Hevron is Palestine" during the riot, and waved PLO flags. Others chanted, "Down with the occupation," a reference to the Arab claim that the presence of Israeli Jews in the city constitutes illegal occupation.

King David Street was open to both Jews and Arabs until the beginning of an intensive PA terrorist campaign in 2000. Hundreds of terrorist attacks took place in Hevron, and the IDF decided to limit PA access to the road as a safety measure, a decision that was upheld by Israel's Supreme Court. Arabs living along the one-kilometer road are free to come and go, but those living elsewhere are directed to adjacent streets instead.

Jews in Hevron are barred from entering the PA-controlled portion of the city, which amounts to 97% of the municipal territory.

Jewish community spokesman David Wilder explained that restrictions on access to King David Street remain in place due to the IDF's assessment that reopening the street would create a security threat. The street's Arabic name, Shuhada street, means "street of the martyrs," he said, meaning the PA named the street after Arab terrorists who have killed Jews.

Wilder said that Hevron is currently "relatively quiet" with the help of constant IDF vigilance. However, he noted, the PA has made several recent efforts to push Arabs into living nearer to Hevron's Jews. Its most recent such attempt has involved housing Arabs in the heart of the Jewish community, near the Tomb of the Patriarchs.

Media's Market Mistake
Some media outlets reporting on Friday's rally misidentified King David Street as the former site of Hevron's Arab market – a mistake also made by several far-left activists in their promotion for the event. In fact, the market was previously located on the other side of the Jewish community, on a narrow road near the Avraham Avinu neighborhood.

The Arab market was gradually closed down beginning in the mid-1990s due to terrorist attacks. In the final attack that led to closure, terrorists threw a bomb disguised as a teddy bear into an area where Jewish children often played.

The market has since relocated to a large square in downtown Hevron.