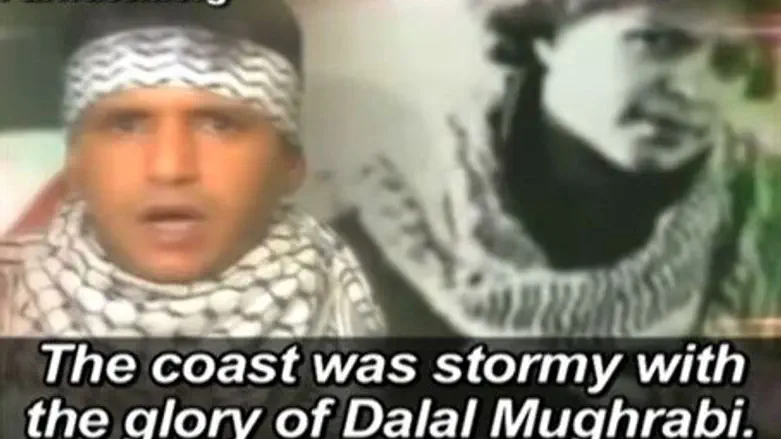 Dalal Mugrahbi on PA TV
PMW
Palestinian Media Watch (PMW) publicized last week that a UN logo was proudly featured on the website of an Arab campaign aggrandizing a murderous female terrorist mastermind as a "role model for Arab women." Following a United Nations denial of its involvement, the UN has now asked PMW to publicize that despite the claims of the campaign, it has nothing to do with it.
As one of its role models for Arab women, the Arab media campaign listed Dalal Mughrabi. Mughrabi organized the worst single terror attack ever to have hit Israel - the Coastal Road massacre of 1978 in which 37 civilians were murdered and 51 were wounded. Mughrabi is venerated in the campaign's video clip as a role model for "martyrdom" and "victory over enmity." She has similarly been touted as a heroine throughout the Palestinian Authority, having had a city square, school and day camp named for her.
PMW publicized that the campaign lists UNFPA (United Nations Population Fund) as its partner. In light of that report, Itamar Marcus and Nan Jacques Zilberdik of PMW write, UNFPA issued a press release "disavowing" its involvement in the campaign. It also contacted PMW and said it "would appreciate any kind action you [PMW] take as a result of this information."
The press release stated that UNFPA "had no involvement in the selection of women profiled in the 'White Hands Campaign' of the Arab Producers' Union for TV (APUTV)." UNFPA added that it has asked that its logo be removed from the site."
As role models for Arab women today, the Arab "White Hands" Campaign chose to promote not only Dalal Mughrabi, but also 7th- century poetess Al Khansa, famous for celebrating the martyrdom deaths of her children.
PMW further reports that the White Hands Campaign's English website is no longer accesible, and the UNFPA logo no longer appears on the campaign's Arabic website.
UNFPA emphasized that the organization was "neither consulted nor involved in the selection of Arab women to be featured by the initiative, and it condemns any acts of violence that take the lives of innocent people. The Fund therefore disassociates itself from the campaign activities." It said that in 2008, it had supplied the campaign's organizers with "information and data on reproductive health and youth issues," but that it "provided no funding."