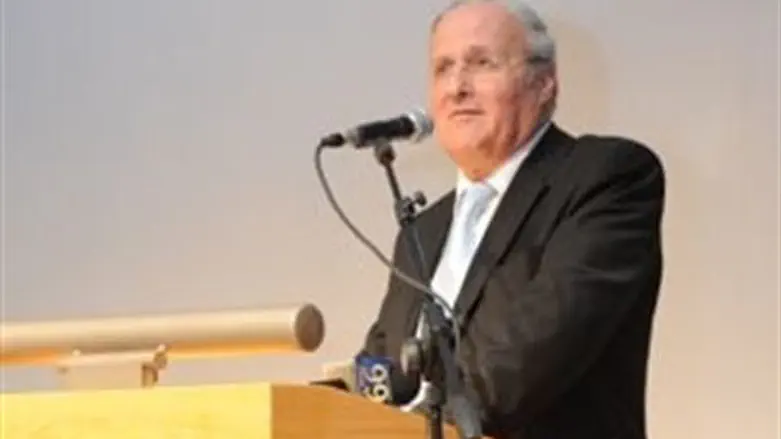 MK Orlev
Knesset Spokesperson
The existence of the Jewish nation is the only justification for the existence of a Jewish state, says MK Zevulun Orlev, and unfortunately, there is a plague of Jewish ignorance raging in Israel.
"There are too many people who don't know the first thing about Jewish culture, religion, language, and thought - and we in the Knesset must do something about it," said Orlev, Chairman of the Bayit Yehudi (Jewish Home) party.

That's why he sponsored "Jewish Identity Day" in the Knesset, in which many of the Knesset committee meetings discussed issues relating to Jewish identity, assimilation, intermarriage, and Jewish education. The event on Tuesday culminated in a Knesset session dedicated specifically to the issue, in which Speaker Reuven Rivlin announced that an expert on Jewish law would be added to the Knesset's legal advisory staff, to ensure that the Jewish perspective is considered when legislation is discussed.
The event was first proposed by the Tzohar rabbinic organization, a group that encourages the integration of Judaism into Israeli national life from a national religious perspective. In a statement before the event, Tzohar Rabbi Uriel Genzel said that the event was important "in order to fulfill the declaration of David Ben-Gurion of a a Jewish state in the Land of Israel."

Among the many issues raised in the plenum and committee discussions were the relationship of Judaism to democracy, practical steps the state could take to encourage Jewish identity, educational programs to prevent assimilation, and "hard" issues such as intermarriage of Jewish girls with Arabs. There was even musical entertainment with a Jewish bent, courtesy of Koby Oz of the "Teapacks" music group.

On the issue of intermarriage, for example, MK Tzipi Hotovely (Likud), chairperson of the Knesset's Women's Advancement Committee, said that "only intense education will prevent Jewish women from connecting as life partners with non-Jews. In the battle against assimilation we hear about the major stories, such as Jewish women marrying Muslim men, but we must remember that the issue is much wider – that there are 92,000 assimilated families living in Israel. We must set up a program in the schools that will teach young women about Judaism. The fact that there is assimilation shows that the educational system is lacking."

Orlev told Israel National News that he was satisfied with the outcome of the event. "The competing roles of religion and democracy in the Jewish, democratic state are issues that must be discussed and understood," Orlev said. "Unfortunately many people know more about democracy than about Judaism, and as a result, the Jewish aspect of legislation tends to get set aside. Our aim is to increase knowledge of Judaism in order to ensure that both sides get the credit they deserve."  

Education, beginning from the elementary level, is of course an important way to promote Jewish knowledge. But it takes many years for a young generation to grow up and take the reins of leadership; and there is a great need now to increase the Jewish content of the state. As a result, says Orlev, new legislation will be introduced, by his party and others, to increase government funding of projects that increase Jewish knowledge and identity – including increased funding of community "batei medrash" (houses of learning), adult education programs, identity seminars, and cultural productions, such as plays, music, and television programs.

That kind of "adult education" is crucial if the state wants to adopt more Jewish values. "I know that many Knesset Members have very specific ideas about the role of Judaism in a democratic state – and that role is very minor – but I believe much of that comes from ignorance," according to Orlev. "Many MKs really know very little about their heritage, and their political stances are blurred by this ignorance, and the more they know, the more I believe they will take into account the Jewish perspective." That education will also help MKs clarify issues on Jewish law, and even halachic issues, that come up in the Knesset, Orlev added.

"I was very happy to work with Tzohar on this, because they have a deep understanding of how to integrate democratic rule with Torah law, and what a successful balance looks like," Orlev said. "I see this whole effort as one of the most important that a Jewish state can engage in. We cannot reach a situation where ignorance is allowed to rule the day."